Top three romantic destinations for a Valentine's Day getaway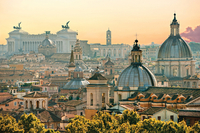 Feeling blue after Christmas? Not to worry, love is on the horizon to warm the cold winter air. Sail away to a dream destination this Valentine's Day and make truly unforgettable memories with Cruise Nation. Whether it is sipping cocktails in Singapore, lying on the beach in the exotic Caribbean, or sharing spaghetti in Rome, Cruise Nation has cruises to make this Valentine's Day extra special.
Here, the travel experts at Cruise Nation provide their three best holiday destinations for the celebration of love:
1. Rome is a spectacular destination for Valentine's Day particularly as it is the city where it all began. The priest Valentine was jailed for performing marriage ceremonies after it was forbidden in ancient Rome. During his time in prison, legend says that Valentine made friends with the jailor's blind daughter who he sent a note to signed, 'from your Valentine'. There is no better place than Rome for a romantic retreat with its legends, history and air of mystery.
10-night Eastern Mediterranean cruise with two free nights in Rome calling at Katakolon, Athens, Izmir, Istanbul, Naples and Rome departing on 2 February 2015, prices from £499
2. Singapore is the perfect exciting, far-flung city to make this Valentine's Day extra special. From luxury hotels converging into jungle, traditional shophouses housing secret cocktail dens and modern skyscrapers towering over colourful temples, Singapore is a bundle of contrasts which makes it ever-more intriguing to discover together.
11-night Singapore, Thailand & Malaysian Adventure including stops in Penang, Ko Samui, Port Kelang and more as well as three free nights in Singapore departing on 9 February 2015, prices from £1,369
3. Nice is a great destination for couples looking to escape the Valentine's Day commotion. You could chill out on a cosy café on a street corner, view the stunning sunsets on the renowned Promenade des Anglais, or visit the daily flower market of the Cours Saleya. You can also enjoy some of the best food in France no doubt enhanced by ambient candle lighting.
12-night Mediterranean boutique cruise including stops in Savona, Athens, Trapani and Marseille as well as one free night in Nice departing on 10 February 2015, prices from £569
Phil Evans, Managing Director of Cruise Nation said: "Valentine's Day is a wonderful time of year for couples and travelling abroad and experiencing fascinating destinations is a perfect way to make new memories and explore the world with those special to you. Cruises are a hassle-free holiday experience, with excellent dining options and plenty of entertainment facilities to ensure you have a relaxing romantic break. Cruise Nation's exceptional value could see you spending this Valentine's Day around the world without breaking the bank. Just call our expert team for free on 0800 408 0758 to find the best deal for you and your partner."
Here, Cruise Nation gives you a taste of their unbeatable value deals for getaways this Valentine's Day:
Valentine's Deal 1 (London Gatwick departure)
Cruise Nation is offering a seven night Canary & Africa cruise with three free nights in Gran Canaria from just £499pp
Package departs on 4 February 2015
Full board 7-night Canary & Africa cruise on the MSC Armonia calling at Gran Canaria, Las Palmas, Casablanca, Agadir, Lanzarote, Santa Cruz before returning to Las Palmas
Package includes three nights in Gran Canaria on a room only basis
Includes return flights from London Gatwick
Additional baggage costs may apply
Valentine's Deal 2 (London Heathrow departure)
Cruise Nation is offering an 11-night Caribbean & Bahamas cruise from just £1,049pp
Package departs on 7 February 2015
Full board 11-night Caribbean & Bahamas cruise on the MSC Divina calling at Miami, St Maarten, Puerto Rico, the Bahamas, and Nassau
Includes return flights from London Heathrow
Additional baggage costs may apply
For more information or to book your cruise holiday, visit cruisenation.com.