Value key rooms for added home value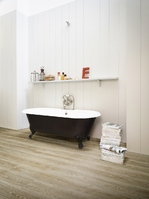 According to luxury vinyl flooring manufacturer, Moduleo, the kitchen and bathroom are the key rooms which will inject significant value to any property during the current housing boom.
The manufacturer, which recently launched its innovative Impress collection to the UK market has experienced continued success with customers looking to make bold statement designs in the kitchen and bathroom to create a 'wow factor'.
David Bigland, managing director of Moduleo UK and Eire comments: "In the past six months, we've seen a marked increase in the number of consumers looking to make real investments into their kitchens and bathrooms, to increase their return on investment later down the line.
"We're confident that this correlates with the housing boom, where home-owner confidence is growing and more people are looking to sell. This means investing in those key rooms and the best products, which is reflective in our sales."
All Moduleo products are come with at least a 15 year guarantee, are easy-to-clean, durable, scuff and stain-resistant, and therefore ideal for kitchens and bathrooms.
The latest Impress collection in particular, which channels inspiration from the great outdoors and boasts registered embossing for the ultimate in realistic design, has been a hit with home-owners.
David concludes: "This is an incredibly exciting time for home-owners, and we're keen to ensure consumers have the best possible products to select from when it comes to decorating.
"Together with our full range of design floors and the long-lasting guarantee, your kitchen and bathroom will be stylish, durable, and most importantly a big selling point for your home."
Moduleo produces a diverse range of vinyl floor tiles in a large selection of colours and finishes. Moduleo products are available in both a traditional LVT construction and a simple-to-install Click system which offers added flexibility. By investing in innovative manufacturing techniques, Moduleo is proud to be a leader of this industry while also offering an environmentally-friendly option for consumers.
For further information, visit moduleo.co.uk.