A holiday resolution revolution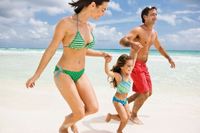 With all those New Year diet and fitness resolutions starting to waiver it appears that there is one set of resolutions a third of us Brits do stick to every year – those relating to our holidays! And according to research revealed today by Jet2holidays, a massive 78 per cent of us have vowed to overhaul our holiday patterns making 2015 the year we look to break those longstanding habits.
With the leading package holiday expert celebrating its biggest ever booking day to date last Sunday – a massive 3,000 bookings – Jet2holidays surveyed over 1,000 people across the UK to see how we are going to revolutionise our holidays this year:
What are we resolving to do differently?

The research shows that our top holiday resolutions for 2015 are:

1. To have shorter breaks but get away more often (63 per cent)
2. To be more adventurous and try a new destination (42 per cent)
3. To spend less on our holiday wardrobe (35 per cent)
4. To not leave booking until the last minute (33 per cent)
5. To relax more (20 per cent)
Savvy travelling in 2015

Saving money is high on our agenda this new year with 87 per cent of us resolving to adopt thrifty holiday habits. One in three of us vow to book early, taking advantage of low deposit offers like Jet2holidays' £60 per person, with the same number also promising to take advantage of sales and offers in 2015. An impressive 35 per cent of us have committed to spending less on a new holiday wardrobe, opting to rock last year's faithfuls while away instead.
Keeping the holiday feeling lingering

The findings also reveal that many of us definitely want to get away more often, with a massive 63 per cent aiming to jet away on frequent short breaks. Plus a third of us have resolved to keep that holiday feeling alive when back home, simply by taking more photographs!
The year for adventure

We are seeking new challenges in 2015 by resolving to venture into the unknown. More than two thirds (67 per cent) of those who have made resolutions are seeking a new experience, whether that's heading to a destination we've not visited before – with the Greek Islands topping the travel wish list – sampling a new cuisine or trying a new sport.
More 'me time'

Even though creating happy memories with partners and kids is still key, 51 per cent of us are determined to relax by promising ourselves more 'me time' while away, with a quarter saying they are ditching any social media updates so they can fully relax and switch off.
Steve Heapy, CEO of Jet2.com and Jet2holidays said: "Everyone should make holiday resolutions as they are the only ones we stick to! Early January is always a busy booking period for us but it certainly appears that this year people are taking the resolution to book early seriously – we've just had our best day ever with bookings up a massive 53 per cent year on year.
"People taking several shorter breaks is also a trend we've seen growing in recent years and we've worked hard develop our product to give our customers the choice and flexibility to do this – whether its 3 or 45 nights!
"Whatever the holiday resolution, it's resulted in a fantastic start to the year for us and we certainly resolve to do all we can to help people keep their holiday-related commitments for 2015!"