One in five Brits are interested in having liposuction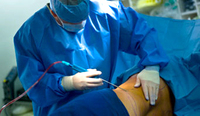 Whilst the nation's widening waistlines are increasingly under the spotlight, new research from Mintel finds Brits are surprisingly open to going under the knife to see weight-loss results. Indeed, today as many as one in five Brits say they would consider undergoing excess skin removal or liposuction.
This new research finds that almost a quarter (22%) of Brits say they would consider having excess skin removed – including 18% who have not yet undergone excess skin removal and 4% who have experienced it in the past and would do so again in the future. Meanwhile, as many as a fifth (19%) of Brits said they would consider having liposuction in the future, including 2% who have already undergone this procedure and 17% who have not yet had it but would consider doing so in the future.
Almost three in ten (27%) Brits who have experienced or would be interested in having cosmetic surgery admitted that they had or would consider having cosmetic surgery as a "quick fix" to an area of their appearance that they weren't happy with.
Jack Duckett, Consumer Lifestyle Analyst at Mintel, said: "It is clear that there is significant growth potential for procedures related to weight loss, including excess skin removal and liposuction. The high level of pressure from the Government and health organisations on consumers to lose weight is likely to continue to intensify over the coming years as an increasingly obese population continues to put strain on NHS resources. This could present the UK cosmetic surgery market with a greater number of opportunities to assist adults with rapid weight loss, or provide excess skin removal for those that have lost weight themselves."
As well as weight-loss related procedures, the research looked at consumers interest in other cosmetic procedures and found the most popular potential procedures of interest include – teeth whitening (40%), permanent hair removal (27%) and skin treatments (21%). Other areas of future interest include tattoo and mole removal (20%), breast reduction/enlargement and lift (16%) and eyebrow/eyelid and lift (16%).
Waistline is number one body concern
The stomach and waist area collectively is the body area Brits are least likely to be happy with the appearance of. Today, some four in ten (37%) Brits are "not happy" or "not at all happy" with their waistline, this is followed by teeth (30%), bums, hips and thighs at 26%, hair on face or body (18%) and the breast and chest area at 17% – together, these make up the nation's top body concerns.
The appearance of their waist or stomach is the most common area of unhappiness for women, with almost half (48%) of all female consumers unhappy with the area. However, women are also significantly more likely than men to be unhappy with their bums, hips and thighs (41% vs 10%), arms (25% vs 6%), breasts and chest (22% vs 11%) and chin and neck areas (21% vs 8%).
"Women are significantly more likely to be unhappy with areas of their appearance than their male counterparts. This can be attributed to the glossy appearance of female celebrities in advertisements and magazines, as well as the rise in photo sharing through social media, which results in women having unrealistic expectations of how they should look." adds Jack.
Boosting self-esteem was cited by half (51%) of those who have experienced surgery or who are planning to have surgery in the future, making this the number one reason for having cosmetic procedures. Meanwhile, more than a third (36%) of people in this group said that their interest in surgery was triggered by a desire to be more attractive and almost a quarter (22%) said they would have it to look younger. Around one in ten (9%) felt it was more socially acceptable these days and one in twenty (6%) said they would have surgery to boost career prospects.
Finally, in terms of cosmetic surgery tourism, three in ten (31%) Brits believe it is safer to have surgery done in the UK than abroad, whilst the same proportion are put off by scare stories in the media. Price remains a major driver of the cosmetic surgery tourism market, with nearly three in 10 (29%) adults agreeing that it is cheaper to have cosmetic procedures abroad than it is in the UK. For example, the cost of liposuction in Turkey can be up to 40% cheaper than in the UK. Some 11% of all adults agree that going abroad for a procedure has the added benefit of going on holiday.
"There is also an opportunity to tackle the proportion of consumers who are choosing to go abroad for treatments in search of a better deal. UK clinics could do this by emphasising the high quality of post-procedural care and follow-up attention they can provide, due to them being nearer the customer's home." Concludes Jack.