International Motors launches ProParts aftermarket range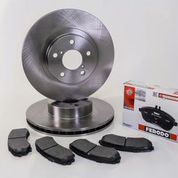 IM Group, or International Motors as it is more commonly known - the official importer for Subaru, Isuzu and Great Wall in the UK - has announced the 2015 launch of its 'ProParts' range of automotive service and upgrade items. Available through every one of IM's dealerships across the UK, the range offers OEM quality and warranty cover, at highly competitive prices.
The move is a response to what IM sees as the predictable drift of owners with older cars away from its dealer network. Naturally, cars still within their warranty periods (Now 5 years on most IM vehicles) will be serviced and maintained with the appropriate franchise's OEM parts as normal. What ProParts aims to offer however, is a range of high-quality, high value service lines to allow dealers to easily rival independent factors and 'fast-fit' outlets.
The lines will initially include staples such as exhausts, brake pads and discs, windscreens, batteries, cabin filters and wiper blades, which, thanks to IM's significant buying power, will be offered at ultra-competitive prices, combined with exceptional warranty coverage - in many cases, exceeding the norm for equivalent aftermarket parts. In each application, all parts have gone through IM's exhaustive technical procedures, proving them to be able to surpass even stringent OEM quality tests.
Range highlights include;
Brake Pads. Ferodo pads at competitive prices, exceeding OE standards. Warranty 12 months or 15,000 miles *
Brake discs. Both Ferodo and Mintex products will be offered. Again, exceeding OE standards. Non-recycled metal "virgin" iron disc material used in construction for optimum retardation and resistance to warping under high loads. Warranty 2 years *
Exhausts. Highest grade, non-magnetic stainless steel. Sporty exhaust note. 10 year warranty with unlimited mileage. *
Windscreens. Made to OE standards by OE manufacturer. Warranty 12 months * Significantly better value than OEM screens on older vehicles
Cabin Filters - made to OE standard, 12 months warranty *
Wiper Blades. A fully inclusive "all makes" range, tried and tested in Scandinavia under extreme conditions. High quality and high-value. 12 months warranty. *
Batteries . The Pro Parts Essential range uses three part numbers. Fit 46% of the UK vehicle market. Competitive prices. 3 year warranty. *
*Against manufacturing defect . Labour included if fitted at a Subaru/Isuzu/Great Wall dealership.
Commenting on the launch of the range. Darren James, IM's Group Director of Parts and Logistics said, "The ProParts range is a very important tool for our dealer network. Not only does it allow us to compete squarely on price with the independent aftermarket to retain the owners of older cars, but it actually means we can out-compete them in terms of aftersales care and warranty coverage, meaning that our end-users get a much better deal all round. In the case of items like windscreens, our dealers will be able to buy them so competitively, that they will also be able to supply local specialists and bodyshops. The range has been put together in conjunction with the world's leading OEM suppliers, and supported by IM's much vaunted logistics network, we are confident that our dealers will become a creditable alternative to high street factors and independent garages, whilst giving drivers a real choice, industry-leading back-up and genuine value for money."
For more information on the ProParts range, visit your local Subaru or Isuzu Dealer.