Peugeot 308 awarded 'Best Company Car to Buy' 2015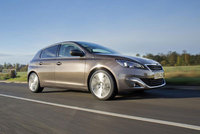 The award-winning Peugeot 308 has obtained yet another accolade – this time awarded the 'Best Company Car to Buy' by Business Car Manager - the business motoring magazine. It follows numerous awards in the UK and across Europe, having won the most prestigious prize last year – voted Car of the Year 2014.
Peugeot 308 5-door Hatchback - 1.6-litre BlueHDi Active 120 Stop&Start – chosen as the 'Best Company Car to Buy'
Ralph Morton, Editorial Director at Business Car Manager, commented: "Already Car of The Year, Peugeot can now add the Best Company Car to Buy Award, to its swelling shelves of silverware for the new 308. The 308 has been on a diet, shedding 140kg along the way. This and the range of super-efficient petrol and diesel engines, equal a Peugeot Hatchback and SW estate range that is a much better option for company car buyers.
"Our winner here is the 120hp diesel with its brilliantly low 82g/km CO2 providing small businesses that buy their company cars with an important 100% First Year Allowance tax break – at least until the end of the 2014/15 tax year. Add in low running costs and fuel economy of over 90mpg and it's not difficult to see why our judges were persuaded in the 308's favour."
About Peugeot
The Peugeot brand can trace its roots back to 1810. It was in 1889 that it began producing automobiles, and six years later (120-years ago), it sold its first commercial vehicle. Since then, over 60 million vehicles of many different shapes and sizes have been sold. Demonstrated through its Brand signature 'Motion & Emotion', Peugeot is present in 160 countries, has 10,000 franchised dealers and is recognised for the quality and design excellence of its products.
The UK is Peugeot's 3rd largest sales market with its Headquarters located in Coventry. Peugeot in the UK has an eight-model car range with the majority identified by numbers, now and moving forward, ending in the lucky-number '8' – 108, 208, 308, 508, 2008, 3008, 5008 and RCZ Sports Coupe.