Forge Ford Focus ST250 boost hose kit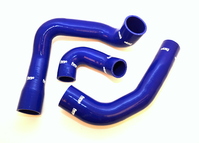 Hot off the back of its numerous other upgrades for the popular Ford Focus Forge Motorsport has released a race-quality boost hose kit that will fit all ST250 versions of Ford's superb Focus.

Thanks to being modelled directly from the OEM hoses, these new precision engineered parts are an easy and direct replacement for the factory items, yet offer significantly greater ability to withstand much higher boost pressures and temperatures. Ideal on a standard car, but absolutely essential on a tuned, track or modified example! Allied to this, their superior woven fabric reinforcement means that they will last an awful lot longer than the factory ever intended, too.

Three dynamic colourways are available. Choose black for understated elegance, or blue or red for trackside or show arena presence. Whichever you choose, the entire kit costs just £116.61 + VAT (£137.53 including VAT)

For more information, visit forgemotorsport.co.uk.

US Customers should visit forgemotorsport.com.