Laura Aikman joins cast of BBC Three's Bluestone 42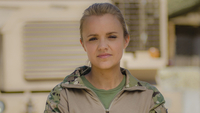 Laura Aikman (Waterloo Road, The Job Lot) is to star in Bluestone 42, the critically acclaimed BBC Three comedy following the lives, loves and adventures of a fictional bomb disposal detachment in Afghanistan.
Joining the team later in the run of series three, Laura plays new arrival Ellen Best, a high-threat-bomb disposal expert who couldn't be less like the rest of them if she tried.
Laura Aikman says: "It's been awesome to join the cast of Bluestone 42, especially as I was already a fan of the show. It's also given me an amazing opportunity to learn so much about the army and make some amazing new friends, who I may never otherwise have met."
Michelle Farr, series producer, says: "We're delighted to have Laura join the cast of Bluestone 42. She is a wonderfully funny actress, and the character of Ellen shakes up the Bluestone team brilliantly, setting up the show for a dangerously funny third series."
The returning ensemble cast features a roster of British acting talent including Oliver Chris (Breathless), Matthew Lewis (Harry Potter), Katie Lyons (The Crimson Petal And The White), Jamie Quinn (Coming Up), Scott Hoatson (The Wicker Tree), Stephen Wight (The Paradise) and Tony Gardner (Last Tango in Halifax).
As we rejoin the team back on patrol in hostile territory we find Captain Nick Medhurst (Chris) still agonising over the padre, Bird (Lyons) still agonising over Nick and the team braced to continue fighting bureaucracy, the Taliban and each other equipped with their customary brand of gallows humour.
The third series of Bluestone 42 returns to BBC Three later in the year. It is a BBC In-house comedy production.