Channel 4 commissions more Catastrophe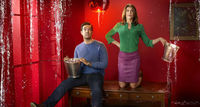 Channel 4 has confirmed the re-commission of Catastrophe, the acclaimed comedy series written by and starring Sharon Horgan and Rob Delaney.
The series launched on Channel 4 at 10pm, Monday 19th January attracting an average consolidated audience of 1.2 million viewers to its debut episode. This rises to 1.6 million when including the Friday night repeat*. The comedy follows an Irish woman (Sharon Horgan) and an American man (Rob Delaney) who must navigate instant pregnancy and genuine disaster as they struggle to fall in love in London and has garnered rave reviews from press and viewers.
The supporting cast includes Carrie Fisher, Ashley Jensen and Mark Bonnar.
Jay Hunt, Chief Creative Officer at Channel 4, said: "Catastrophe is a real comedy gem. Sharon and Rob have done a magnificent job and we're already looking forward to series 2".
Jon Thoday, Joint MD of Avalon, added: "It's a real pleasure to be working with such a talented team on such a great show and I'm delighted that we'll be making more episodes with Channel 4."
An Avalon Television production, with co-producers Birdbath Productions and Merman, Catastrophe was commissioned by Fiona McDermott, Comedy commissioning editor at Channel 4. The series is directed by Ben Taylor (Cardinal Burns and Cuckoo) and produced by Jack Bayles (The Mimic, VIP), while the Executive Producers are Richard Allen-Turner, Kara Baker, Rob Delaney, Sharon Horgan and Jon Thoday.