True Brits top list of classic cars covered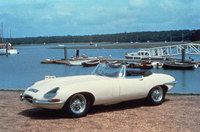 Classic vehicle insurer, Ageas Insurance Limited, has unveiled the top ten classic cars it covers through Optima Classic Car, its specialist policy sold via brokers, created for enthusiasts and owners of cherished vehicles. Nine out of ten of the cars on the list are British made with the MG B coming in at the number 1 spot.
Graham Ellis, Niche/Schemes Underwriter, Personal Motor at Ageas UK said: "When we look at the top vehicles we cover under our Optima Classic Car policy, what really stands out for us is the British made cars, manufactured during the peak of the UK's motor manufacturing industry, that are still so cherished. In fact, nine out of the ten top classic cars that we insure are British made. Admittedly, we aren't talking peanuts to get one of these greats, we tend to be talking four or five figures but what's great is the appreciation in classic car values over the past few years. The good news for classic car buyers is that insurance should be one the lowest costs they will face and if they speak to a specialist broker, they'll be offered policies such as Optima Classic Car which include cover for tools and toolboxes, agreed values and limited mileage.
Topping the list are the MG B and MG Midget, with the MG B GT at sixth place. These iconic sports cars are proving popular, due to the availability of spare parts and the fact you can buy a whole body shell, repressed from the original. With its massive cult following, the Land Rover 88 also comes high on the list of the classics Ageas insures the most across the UK.
Triumphs – the Stag, Stag Auto and Spitfire - feature at third, seventh and tenth on the list. The Stag as a four seater can be a little more practical than some classic sports cars and has a big following with prices at around £15,000 for one in mint condition. Then a real 1960s classic is at eight position, the Jaguar E-Type, dubbed by Enzo Ferrari as "the most beautiful car ever made". Leading up the rear and in huge contrast to the E-Type is the much-loved Morris or 'Moggy' Minor in ninth place.
Aside from these home-grown beauties, it's no surprise to find a Porsche on the list – the 944 LUX. For many, the Porsche is the ultimate dream machine and the 944 Lux is a comparatively affordable and more reliable option than some other models.
Graham Ellis concludes: "If you are in the market for a classic car, before taking the plunge, consider garaging and restoration costs and talk to a broker about insurance. The premium for a specialist insurance policy such as Optima Classic Car from Ageas, should reflect the fact that these cars are usually low mileage, well cared for and often undercover for the winter period. Spring's not far away, so now's the time to be doing the research and speaking to a broker to get in the driving seat for a summer of fun in a classic car."
Top Classic Cars covered by Ageas Optima Classic Car Insurance in 2014
1 MG B
2 MG Midget
3 Triumph Stag
4 Land Rover 88
5 Porsche 944 LUX
6 MG B GT
7 Triumph Stag Auto
8 Jaguar E-Type
9 Morris Minor
10 Triumph Spitfire