Gluten free masterclass series at Cantina del Ponte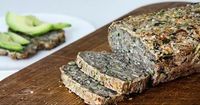 This Spring Cantina del Ponte, a traditional Italian trattoria located by the River Thames will be hosting a series of gluten free masterclasses launching on 21st February. The masterclasses will bring together a collaboration between nutritionist Stephanie Seege and Cantina del Ponte's head chef Marco Goldin, who together will aim to educate people looking for a healthier lifestyle change. The masterclass will be broken into three parts and guests are invited to enrol on the course to learn the real staples of maintaining a gluten free diet, creating dishes that not only reflect modern culinary trends but can also help to make a difference to a person's life. Each session is guided by Stephanie and Marco who will share their in-depth culinary skills and nutritional knowledge.
The course is priced at £115 per person for three separate sessions including a gluten free lunch using all of the ingredients and food produced in the class; as well as a signed copy of Stephanie Seege's cookery book, Soulflavours.
Session 1: Saturday 21st February
Seeded courgette bread
Torta Carlotta (Italian carrot cake)
Session 2: Saturday 14th March
Buckwheat flour crackers with roasted aubergine and parmesan
Almond mille-feuille with tiramisu cream
Session 3: Saturday 18th April
Gluten free pasta
About Stephanie Seege
Stephanie Seege was born and raised outside Helsinki, Finland and settled in London in 2012, after having lived in Barcelona, Berlin and New York. In October 2013 Stephanie self-published a prototype for a cookbook, Soulflavours, in English, Swedish and Finnish, with recipes and menus free from gluten, diary, yeast, eggs and refined sugar.
About Cantina
Cantina del Ponte is a traditional Italian trattoria, situated by the River Thames at Butlers Wharf and is part of the D&D restaurant group. The restaurant offers an authentic Italian menu, created by head chef Marco Goldin who joined Cantina in January 2014.