More fun for toddlers at Woolacombe Bay Holiday Parks in 2015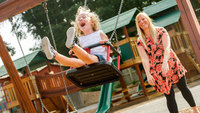 Free fun and activities – plus a tots magic and comedy show with former CBeebies presenter Sid Sloane – awaits youngsters at Woolacombe Bay Holiday Parks in Devon in 2015.
All manner of fun sessions are on offer to pre-school children at Betty's Buddy Club, specially created for little ones and their parents. These include Wake 'n' Shake dancing sessions, Messy Mayhem arts and crafts, Stay and Play sessions and interactive story time. In addition, children can enjoy free facilities such as indoor pools, toddler pools, soft play areas and mini-golf.
Free entertainment by children's favourite, Sid Sloane, is on selected dates in April, June and September, an ideal time for families with toddlers to take their annual break as the Parks will be quieter before the arrival of peak season.
Families can also have fun at the biggest free party of the year on 4 May when the Park's mascot – Billy Beachball – will be celebrating his birthday with party games and a birthday spread
There are a wealth of special offers too...a four-night midweek break for a family of four in a two-bedroom caravan holiday from 20 April or 8 June – dates when Sid will be at the Parks – costs from just £89 (saving £66) and £162 (a reduction of £83) per family respectively. For those celebrating Billy's birthday, a four-night stay from 4 May costs £113 (saving £62).
The company also features special 'baby-breaks' in selected accommodation which come complete with all the 'necessities' such as cot, night light, black-out blinds and high chair. Parents also enjoy a bottle of complimentary wine and a spa session.
For more information or reservations, visit woolacombe.com/bp.