Bear Grylls stars in Mission Survive on ITV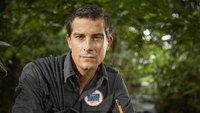 Bear Grylls stars in a new adrenalin-fuelled series for ITV in which the adventurer takes eight celebrities into the depths of one of the most unforgiving Central American rainforests, where they will be competing in an epic 12-day survival mission.
In Bear Grylls' Mission Survive the celebrity expedition team will be pushed to their physical and emotional limits. Issued daily mission briefings by Bear, they will have to navigate treacherous obstacles and journey through dangerous dense jungle, testing their ability to adapt, improvise and overcome in one of the world's most hostile environments.
Testing the celebrities at every turn on the fundamental principles of survival: shelter, water, fire and food, the celebrities have to abseil down ferocious waterfalls, cross perilous rapids, trudge through swamps and negotiate razor-sharp vines - not to mention contending with scorpions, snakes and sand flies.
Bear will guide the celebrities on their punishing assignments, sharing with them his expertise, mindset and skills. He will also be assisted on the ground by his much trusted right-hand colleagues, expedition and survival experts Megan Hine and Scott Heffield.
Meg and Scott will be Bear's eyes and ears throughout, observing the progress of the famous faces as they advance through the jungle. They will help inform Bear on how the celebrities are coping so he can best decide who should be eliminated and who should continue.
However it's not just survival of the fittest, Bear is looking for unique qualities that aren't always most apparent: the team player who can also work alone, the quick-thinker who can work under extreme pressure and can also plan ahead, the leader who is able to take advice from those around them and the quiet hero who shoulders the burden when times get tough. The winner will have to show a resilience and ability to endure hardships unlike anything they've experienced before.
At the end of every episode Bear will eliminate one person. And at the end of the series, there will be three finalists and ultimately just one Mission Survivor.
Bear Grylls said: "This show is all about empowerment and I am so proud of how the celebrity team who joined me on Mission Survive performed. It was without doubt a tough expedition, but also a very life-enhancing adventure for everyone involved. I would set them daily survival missions and would then regularly back away, leaving them to their own devices, so that they would learn by doing it and making mistakes. That's the source of all genuine growth in a survivor. I was looking for the qualities that a survivor in a real-life scenario most needs: positivity, resourcefulness, courage, determination, and a whole heap of bloody mindedness!"