At-Bristol science centre's planetarium to become the UK's first digital 3D Planetarium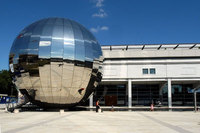 At-Bristol science centre, one of the UK's leading interactive science centres, is upgrading its Planetarium to become the UK's first digital 3D Planetarium. As an educational charity, the funding granted by the Department of Culture, Media and Sport (DCMS) and Bristol City Council under the 'Bristol is Open' project will act as an investment in Bristol's future as a centre for education, research, technological innovation and commerce.
The Planetarium at the hands-on science centre will undergo extensive refurbishment by installing an Evans & Sutherland Digistar 5 full dome 360° digital 3D projection system. The upgrade will utilise 'active' 3D technology, with shows projected in 4K resolution (UHD Ultra High Definition) from two projectors, and 7.1 surround sound, creating a fully immersive experience. Skypoint Planetariums, Evans & Sutherland's European representative, is providing the new equipment and will manage the installation.
At-Bristol's vision is to "make science accessible to all", and currently attracts over 250,000 visitors per annum, including 60,000 school children and teachers. The Planetarium upgrade will enable new avenues for At-Bristol's formal and informal learning audiences, with extensions to the existing offer of astronomy, cosmology and earth science.
Visitors will be able to see a range of presenter-led seasonal stargazing shows (in a choice of 2D or 3D), as well as a 'Space Explorers' (2D) offering for under 6s. They will be able to discover the universe from the comfort of their seats – fly through rings of Saturn, journey to distant stars, and tour the Solar System and see it in a way that they've never seen it before.
Funding for the project has been provided by the Department of Culture, Media and Sport via Bristol City Council, with the aim of opening up the Planetarium to new opportunities for business growth within the city of Bristol, under the 'Bristol is Open' project. Technology companies, research organisations and small and medium-sized enterprises will all be offered the opportunity to utilise the unique data visualisation capabilities of the upgraded Planetarium. The benefits to the business and academic communities will be the ability to visualise huge and complex sets of data in new and insightful ways, from full 3D design models to real time weather forecasting maps. This new and exciting use of the Planetarium will see it quickly become one of the leading data visualisation tools in the Europe. A special 'out of hours' entrance will also be created for business use.
Phil Winfield, At-Bristol's Chief Executive said: "We are delighted to have been awarded funding by DCMS via Bristol City Council for this project – it will enable us to transform our Planetarium into a world-class facility to inspire the scientists of tomorrow. The ability to explore astronomy and earth science in exciting new ways and its use as a centre for data visualisation will allow us to develop and reach new audiences and partnerships within the business community in Bristol and beyond, as well as extending our own education offer to both school and public audiences. As an educational charity it's exciting to be at the centre of such an innovative project that will change the way that we work and learn going forward."
Stephen Hilton, Director of Bristol Futures at Bristol City Council added: "By upgrading the Planetarium to create a state-of-the-art city data visualisation facility, we are developing something world leading and unique for Bristol citizens and businesses. Data is increasingly an important city asset and being able to visualise it in new, highly dynamic and interactive ways will showcase the creative digital skills, which are one of the city's greatest strengths"
The At-Bristol Planetarium will close on 16 February, and will reopen to the public on 24 April. For full information on the Planetarium, visit at-bristol.org.uk.