Major market move for Moduleo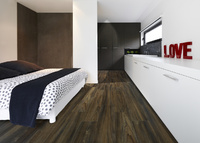 Luxury vinyl flooring manufacturer, Moduleo has announced it will be extending its Transform collection, in line with its Next Generation of products, this spring.
The collection is a development of the existing Transform range and will feature eight new designs in 42 colour options to broaden Moduleo's market share.
David Bigland, managing director of Moduleo UK and Eire explains: "Our new products are all about the design! We have headed in a much more artistic direction with the new products, to provide our customers with more abstract and leftfield options.
"We have created the products to delve further into the commercial sector and as a reaction to where we believe the market is heading. We have further reinforced our 'close to nature' ethos with some of the products, while also offering a number of much softer, warmer and urban/contemporary colours."
All Moduleo products contain up to 55 per cent recyclable material of verified origin and are themselves recycled. What's more, all products are produced in its purpose-built, state of the art and eco-friendly production plant in Avelgem, Belgium; which is powered by its very own wind farm.
David continues: "We're extremely confident the new range and products will be a real success – and cannot wait to showcase them to our customers in the spring."

Moduleo produces a diverse range of vinyl floor tiles in a large selection of colours and finishes. All products are available in both a traditional LVT construction and a simple-to-install Click system which offers added flexibility.
David concludes: "The products will be available in all stockists from March and we're anticipating them to go down extremely well – particularly with those looking to make a statement with their flooring."
For further information, visit moduleo.co.uk.