BNS blazes trail for green cars in Bristol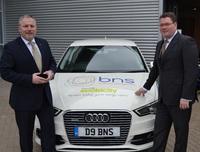 A leading Bristol property management business which manages in excess of 5,500 residential units across the South of England has taken receipt of two brand new Audi e-trons in a bid to minimise the impact to the environment of their travelling.
BNS Property Management, based in Downend, look after apartment blocks, gated communities and large estates across the region and have purchased the vehicles, recently named What Car? Electric Car of the Year, in an ongoing commitment to sustainable business practises.
The new plug-in hybrid model has the potential for up to 176mpg on full charge and can travel for up to 31 miles on electric power alone before the 1.4 TFSI petrol engine kicks in. With the property managers travelling on average 40,000 miles per year this means a significant benefit to the environment.
BNS Property Management director Andrew Simmonds said: "Starting as a small family business we have experienced sustained growth in the past few years as we have taken on more properties and extended our reach across the South.
"This has meant more travelling for our property managers and maintenance teams and so we wanted to do something to counteract this while still providing a reliable and practical transport solution.
"Bristol Audi has supplied our company cars for a number of years and when they suggested the new e-trons we were first in line to try them out and the first in Bristol to take delivery.
"As a company we have very strong green ethics and have teamed up with green energy provider Ecotricity to supply our properties. We are also sponsors of Forest Green Rovers, who are dedicated to becoming a sustainable football club, so electric vehicles was an easy next step for us.
"The new cars are not only great for the environment they also save us on fuel costs. With Bristol named as European Green Capital for 2015 now is a great time to convert to hybrid models, especially with more and more charging points popping up all the time.
"At the moment we only have two hybrid vehicles but we have plans to extend this to all of our company cars in time with further e-trons currently on order."
Steve Smith, head of business at Bristol Audi, said: "The new Audi A3 e-tron is an exciting phase in the history of Audi as their first ever plug-in hybrid with an electric motor.
"We were delighted the BNS team should be the first to take delivery of this new model. Andrew Simmonds has always been enthusiastic about the Audi range whilst at the same time always keeping a close eye on value for money and like in business his decisions always make sound financial sense, so the e-tron fits the bill perfectly.
"Add to this the environmental benefits and it is easy to see why so many companies and private individuals are test driving the Audi e-tron at Bristol Audi."
BNS Property Management, run by brothers Andrew and Ian Simmonds has a reputation for strong local connections, rapid response times and reliability establishing it as one of the region's leading property managing agents. Recently expanding into Retirement Living management as well as Health and Safety consultation, the company is becoming one of the fastest growing in the area with clients across the South West.
Andrew continued: "We're looking forward to getting the hybrids out on the road as we continue to provide the proactive face-to-face service our clients have come to expect from us."