British Pie Week with the Pierateers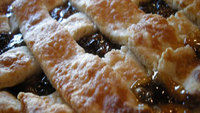 Pie aficionados rejoice! British Pie Week is almost upon us. From 2nd – 8th March pubs and restaurants across the country will be looking to up their pie game and serve some of the best recipes and flavour combinations to ever be encased in pastry to their customers.
For the pie enthusiast this is surely the best week of the year. With ten days to go before the conclusion of British Pie Week we've been in touch with Pierate.co.uk, the web's premier pie resource, to bring you the top 10 pies that you absolutely need to try. The countdown runs the gamut, from the rich and inspired venison and red wine (aka the Thierry Henry) to the humble apple pie.
But how do you judge the perfect pie? Pierateer Rob assures us it's all about 'The Seven C's': "We look for a pie that has golden colour, great consistency, a strong capacity, isn't too chewy, is good value for money (cheapness), has high quality content and is in perfect condition. These criteria make up the Seven Cs - which we rate pies on".
"British Pie Week is the ideal time for people to get together and celebrate the delicious comfort food that is a great British pie! While we certainly don't limit ourselves to just eating pie in pie week, it acts as a particular focus point for the great British public to eat and rate pie together".
British Pie Week is also a great time to take on a #PiePledge to show your commitment to the tasty pastry treats. The Pierateers have been a great advocate of this in previous years, taking on a number of pie 'stunts' and challenges. While plans for the Pierate #PiePledge are still being finalised Rob has assured us that "We will be attempting to go one step further this year after last year's python pie and pork pie challenges'.
Top 10 British Pies
1. Steak and Guiness: Paul's Pies
2. All Steak: King's Farm
3. Chicken and Mushroom: Paul's Pies
4. Venison and Red Wine (Thierry Henry): Piebury Corner
5. Lamb and Veg with a Hint of Mint (Ian Wright): Piebury Corner
6. Minced Beef Scotch: JB Christie
7. Pork, Bacon and Parsley: The Real Pie Company
8. Steak: Jekyll and Hyde Pub
9. Chicken, Chantenay Carrot and Bacon: The Pie Kitchen
10. Apple: Mr Kipling
Not enough pie for you? Head to Pierate.co.uk now to check out reviews for all of the above plus their extensive (and prestigious) pie leaderboard!