European bookings rise as Euro falls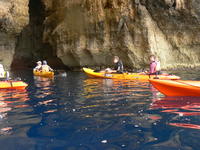 Families Worldwide reports a significant increase in bookings for its European destinations as the pound continues to strengthen against the Euro.
Comments Mark Wright, founder of Families Worldwide: "In recent years many of our customers have been happy to book some of our more exotic, long haul destinations, such as Thailand and Sri Lanka. The flights might be more expensive but spending money goes further once you're there.
"But since the beginning of this year, and especially over the last two or three weeks, many more people are looking to enjoy one of our adventures closer to home as the pound continues to strengthen against the Euro."
Here are just a few of Families Worldwide's European adventure holidays available for the May half term week and the summer months:
Vesuvius & Pompeii: 8 days from £1049 per adult
Based in Sorrento the family will be perfectly positioned to visit some of Italy's finest ancient sites, pretty coastline and tiny islands. Highlights include uncovering the secrets of Pompeii, a trek up Mount Vesuvius, a visit to the volcanic museum, plus a cruise around Capri to discover the dramatic scenery and a drive along the Amalfi Coast before heading for the hills for a pre-lunch walk. There is also an optional trip to Naples or a visit to the preserved Roman ruins of Herculaneum. The holiday costs £1029 per child (5+) and £1049 per adult.
Discover Sicily: 8 days from £1149 per adult
Highlights of the 8-day Discover Sicily trip include walking through canyons and gorges, exploring castles and ancient theatres from Greek and Roman times, spending a day on a farm – helping to feed the animals and sow crops – making a pot and discovering the grottos and craters on Mount Etna. The holiday costs from £1129 per child (7+) £1149 per adult.
Active Gozo: 8 days from £1149 per adult
Gozo is the smaller, sister island to Malta in the warm Mediterranean Sea south of Sicily and highlights of the busy itinerary include exploring the coastal paths by bike, climbing up and abseiling down the rocks, discovering hidden caves by kayak, a boat cruise and playing Bocci with the locals! The holiday costs from £1119 per child (8+) and £1149 per adult.
Active Catalonia: 8 days from £1149 per adult
The 8-day Active Catalonia trip is based at a 17th century farmhouse, just a short walk from the sandy beach and small village of Pere Pescadore. Highlights include horse riding and kayaking plus 6 hours of activities at Adventure Lake; high ropes, climbing wall, archery and abseiling. Other optional activities include quad biking and canyoning (plus time to chill on the beach). The trip costs from £1099 per child (7+) and £1149 per adult.
All holidays include flights, transfers, accommodation, some meals, activities and the services of a tour leader. Land-only prices are available for all trips for those who prefer to make their own flight arrangements.
For more information, visit familiesworldwide.co.uk.