Why rent when buying could save you money?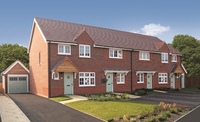 It's official – buyers are almost 10% better off than renters.
Research by the Halifax suggests that a first time buyer who purchases a three-bedroom home pays almost £750 less in housing costs over the course of a year than someone who rents a similar property.
But those who step onto the property ladder with a brand new home at Tudor Gardens in Atherstone could be in line for further savings.
Pauline Turnbull, sales director for Redrow Homes (Midlands), explains: "Many tenants long for a home of their own. Not only are they frustrated at having to pay someone else's mortgage and having nothing to show for their money, they're often restricted from putting their own stamp on the property by their landlord's rules. In contrast, those who opt to buy could actually see their housing costs reduced and they'll have the freedom to personalise their home.
"In fact the savings could be greater than those calculated by the Halifax as their figures included not just mortgage payments and insurance but maintenance, repairs and alterations, which a brand new home at Tudor Gardens won't require. Plus when you factor in Help to Buy, homeownership beats renting hands down."
Help to Buy equity loans are available on all new homes at Tudor Gardens, enabling purchasers to reduce the initial cost of homeownership by up to 20%. Crucially the loan is interest free for five years and can be repaid when the customer has more funds available or they resell. Plus, those who buy in this way should only need a relatively small deposit of around 5%.
Current prices at Tudor Gardens start from £159,995 for a two-bedroom property.
A three-bedroom Broadway is available from £179,995 or an initial outlay of £143,996 using Help to Buy. The lower price includes a 75% mortgage and 5% deposit of around £9,000, with the remaining 20% covered by the equity loan.
To find out more about the homes available at Tudor Gardens in Rowlands Way, visit the showhomes which are open daily from 10am to 5.30pm.
Details are also available online at redrow.co.uk/tudor.