Healthy eating: It's in the can! Celebrating Canned Food Week 2015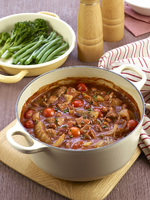 Eating healthily is one thing many of us aspire to do, whether it's by following a diet, cutting out excess sugar or trying to eat a little less. However lots of us struggle to know where to start. That's why for Canned Food Week 2015 (March 30 – April 5), Canned Food UK has teamed up with celebrity nutritionist Amanda Hamilton, to show you just how easy it is.
Canned Food Week aims to raise awareness of canned food and its nutritional benefits. This year Canned Food UK and Amanda Hamilton have produced a set of healthy eating plans, each one with recipes that will take you from breakfast through to dinner.
Running from Monday to Sunday, seven plans have been created for a number of different audiences, from older people and students, to families with younger children and couples. Each plan also features a brand new recipe from Canned Food UK, two of which have been designed by Canned Food UK ambassador and celebrity chef James Martin.
Consumers will be able to participate in Canned Food Week by downloading the healthy meal plans from cannedfood.co.uk and cooking some of the meals outlined, which will be made available during Canned Food Week.
Amanda Hamilton, nutritionist, comments: "These plans have been created to help show people that eating healthily isn't as hard or expensive as you think – it's all about planning ahead. Good nutrition can seem overly complex at times so I'm happy to get behind a campaign that makes simple recipes suggestions that are genuinely accessible to the vast majority – they taste great too!"
Jason Hegarty, Chairman for Canned Food UK, comments: "We know that canned food plays an important role in cooking in the majority of UK households, and that is why Canned Food Week is so important to us. During the canning process, nutrients are locked in, so canned food really does present a healthy option. By producing these plans with Amanda Hamilton, we hope to show that using canned food is a convenient and affordable way to eat healthily."
Canned Food Week 2015 takes consumers through seven eating plans designed to make healthy cooking simple and accessible to all:
Healthy Eating Plan for the more mature:
As you get older, it's important to eat food that will help to keep you strong; food that will help to maintain healthy bones or aid eyesight, for example. Using canned food in your recipes is a great way to do this, as not only is it convenient to cook with, but also includes plenty of nutrients. Take the new Pork and Fennel with Red Wine and Borlotti Beans Casserole – it only takes 10 minutes to prepare before you pop it in the oven and let it cook away. The Borlotti Beans are a good source of fibre, helping to lower cholesterol, whilst the potassium it contains can lower blood pressure.
Healthy Eating Plan for just the two of you:
Canned Food UK has recipes that are versatile enough to freshen up your lunch box and get you excited for a nice relaxing dinner at home. Our new Green Lentil & Celeriac Salad includes tasty ingredients such as canned puy lentils, fresh baby spinach leaves, soft goat's cheese and some crispy pancetta. This recipe makes four servings, meaning you can enjoy it warm at night, and then save the leftovers for lunch the next day! Other meal ideas featured on the plan include Spicy Pinto & Baked Bean Wraps and Spanish Style Tortilla – both perfect for lunch at work or dinner at home.
Healthy Eating Plan for your small army:
It can sometimes be a challenge getting your little ones to eat what you want them to, especially the 5-A-DAY they need. Our plan includes simple recipes for simple tastes, which are affordable too – a must when you've got a growing family. Try our new Tomato Soup with Hidden Vegetables, which uses a can of tomatoes, along with fresh celery, carrots and courgettes, all blitzed together, so youngsters are none the wiser. Alternatively, try the Fun Fish Cakes with Vegetable Mash or Vegetable Lasagne for that added boost of nutrients.
Healthy Eating Plan for students:
With exams and coursework to concentrate on, along with the odd night out, it's all too tempting for students to reach for the take-out menu. However, our plan includes easy, affordable and nutritious recipes for students and their housemates to make. Our new Steak & Butterbean Casserole dish includes just four simple ingredients, only taking 20 minutes to make, leaving students more time to study… or socialise. Plus, our Chicken Dhansak recipe, also in the plan, is a great and healthy alternative to an Indian takeaway.
Healthy Eating Plan for me, myself and I:
If you're just cooking for one, it's often frustrating when you buy packs of fresh ingredients, only for them to go off if you don't use them within the week. That's the great thing about canned food; it has a longer shelf life, so it's there when you need it. The recipes in this plan include ones that serve only two to four people to help manage portion control, with many also suitable for freezing, so you can save it for later in the week. The recipes, including our new Eggs Florentine dish, are also versatile enough for you change quantities according to how many people you're cooking for.
Healthy Eating Plan for your growing teens:
When you've got a family to feed, you need a filling meal that will keep your small army going, but one which will also go a long way without breaking the bank. Our new Salmon & Butter Bean Bake, created by James Martin, is a great example of this, because instead of using fresh salmon, which can be pricy, it uses canned variety for the same results. The plan also includes dishes such as Homemade Chilli Con Carne which is great if you need to make a large quantity, or Minestrone Soup which is packed full of vegetables, so your brood get their 5-A-DAY.
Healthy Eating Plan, with James Martin recipes:
Celebrity chef James Martin is a Canned Food UK ambassador and big advocate of using canned food in cooking. Over the years he has created some delicious dishes and one of his new recipes for Canned Food Week includes Black Bean & Bulgur Wheat Feta Salad. Featuring a host of canned food, including canned black beans, beetroot, mushrooms and sweetcorn, this recipe is the perfect lunchtime dish. Other tasty, yet healthy, recipes from James include Lamb Cutlets with Butterbean Mash, featuring an innovative mash alternative using a can of crushed butterbeans.