Eat fresh this season with new edible plant collection from Seed Pantry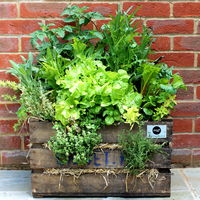 Seed Pantry has launched a new range of fresh food plants to grow your own seasonal produce at home, indoors and outdoors.
With fifty superb varieties to choose from, all plants are especially selected for the quality and fresh flavours that can be used for cooking at home.
These easy to grow plants will bring delicious, fresh flavours to spring, summer and autumn dishes throughout year. The food plant collection gives you choices of fresh salads and leafy greens, ready to eat within around four weeks, fruiting vegetables like unusual tomatoes and hot chillies to super healthy nutritious peas and beans. They arrive in Seed Pantry containers, made using recycled packaging, designed to keep them safe and fresh during transport.
Available on the Seed Pantry website, you can compile your own boxes or order pre-built collection boxes ready to deliver with just a few clicks on the mouse.
The plant collections make a great gifts too for those keen to grow their own and are ideal for foodies living in urban areas who want to grow and eat fresh nutritious salad leaves, herbs and vegetables grown indoors or outdoors in containers.
The carefully selected plant varieties grow well in kitchens, on sheltered balconies, roof terraces, and back yards and, of course, in the veg patch. Priced from £2 per plant, the range is great for anyone who is new to growing fresh food or experienced growers alike.
Seed Pantry founder, Neil Whitehead, says: "Brits are becoming much more food smart, leading healthier lifestyles and desiring fresh, nutritious, quality produce. Our new fresh food collection allows people to have healthy, pesticide-free produce growing in their kitchen or outdoor areas.
"People are enjoying getting more connected with the food they eat and growing your own at home is a convenient and easy way to enhance meals, knowing exactly where that food has come from.
"Having a fresh supply of leafy greens, vegetables, herbs and salads is great for those who love the fresh flavours of homegrown, organic foods and our new plants offer a steady supply all year round."
To view the fresh food plant collection and to place your order visit seedpantry.co.uk/plants/select-a-plant-box.html.