Peugeot's PureTech petrol performer proves popular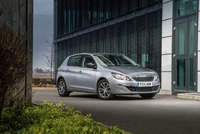 Peugeot has seen demand grow, year-on-year, for its ultra-efficient range of PureTech three-cylinder petrol engines since it was first launched with the new 208 and turbo-charged versions on the 308 from last year, which have seen a significant rise in sales by 252 per cent.
This sales performance is being backed by the well-liked 'Driving Sensations' TV advertising campaign, with demand for petrol versions anticipated to continue growing during 2015, supplemented by an expanding choice in the model range.
PureTech is the Brand name for Peugeot's new range of 3-cylinder petrol units, incorporating the efficiency with 1.0-litre and 1.2-litre naturally-aspirated, and 1.2-litre turbocharged. The PureTech engine range now powers the 108, 208, 2008, 308, 3008 & 5008 models. The engine is the latest in a long line of powertrain innovations, designed to produce big performance from small-capacity powerplants. At the heart of its appeal is optimised combustion, in harmony with 'fun to drive' dynamics.
Peugeot's reputation for outstanding diesel technology is well-known and established over a 50-year period, but PureTech customers are recognising that petrol power can be just as rewarding to drive and very cost-effective to own. Nowhere is this more obvious than on the Peugeot 308, where sales of petrol models were up by a staggering 252% during 2014. Largely attributed to PureTech, demand has moved from a diesel-dominated position in 2013, with only 6% of total sales credited to petrol, to 16% in 2014, with an increase from 14% to 31% in the retail sector alone.
This growth is expected to continue during 2015 with the arrival in showrooms of two key Peugeot 308 models – GT Line and Sportium – both of which are available with PureTech petrol engines.
The 308 GT Line capitalises on the styling of the range-topping 308 GT, with desirable features including; 18-inch 'Diamant' alloy wheels and twin exhausts, housed within the black lacquered rear diffuser. On the inside, sports seats and leather steering wheel are both enhanced with red stitching.
Powered by a 1.2-litre PureTech 130 petrol engine with Stop & Start (S&S) technology, and mated to a new, highly-efficient, six-speed manual transmission, the 308 GT Line Hatchback offers an official combined cycle fuel economy of 61.4mpg, with CO2 emissions at only 110g/km. This model is priced at just £21,445 on-the-road, with a six-speed automatic variant at £22,445.
Peugeot 308 Sportium – uniquely available with PureTech
Peugeot's reputation for exceptional engine technology is second to none, and there's no better display of that than its current range of products equipped with the PureTech 3-cylinder petrol units.
To celebrate, Peugeot has developed a special edition version of the 308 Hatchback called 'Sportium'. It's available with a choice of three engine and transmission combinations, each powered by the PureTech petrol engine and packed with desirable features.
The Sportium model takes all the best elements of the 308, the 2014 Car of the Year and is positioned between Access and Active trim levels, so already benefits from a high level of standard specification including DAB digital radio, air-conditioning, 9.7-inch colour touch-screen, Bluetooth connectivity and cruise control with a useful speed limiter function.
Additional features on the exterior include 16-inch 'Diamond' alloy wheels, rear parking sensors, tinted rear windows, black door mirrors and a chrome grille. Inside, there is a leather-covered steering wheel and gearstick gaiter, driver's lumbar support, plus automatic headlamps and rain-sensing wipers.
Peugeot's PureTech 3-cylinder petrol engine technology delivers performance normally associated with larger-capacity engines, but with significantly improved fuel economy. It's the result of innovative engineering which combines reduced overall weight with the efficiency of direct fuel injection. That means maximum enjoyment behind the wheel, whether drivers are around town or out on the open road.
The 308 Sportium model is available with a choice of three versions; 1.2-litre PureTech 110, a 1.2-litre PureTech 130 and 1.2-litre PureTech 130 with six-speed automatic transmission. Each has Peugeot's innovative Stop & Start technology fitted as standard, allowing for reduced fuel consumption and environmental impact. Emissions are 105g/km, 107g/km and 114g/km respectively.
Prices begin at £17,445 on-the-road, and the Sportium is currently available on the Peugeot Passport personal lease finance agreement for just £209 per month with deposition contribution and viewable at www.peugeot.co.uk with the ability to view and configure.
New production line opened to meet demand of PureTech
To meet buoyant market demand for the EB Turbocharged PureTech three-cylinder petrol engine that powers an expanding range of products, PSA Peugeot Citroën has assigned a new production line at its facility at the Trémery plant in north-eastern France.
The modular, high-performance, turbocharged three-cylinder engine, which is fitted on the Peugeot 208, 308, 2008 and 3008, reduces fuel consumption and CO2 emissions by an average 18% compared with the naturally aspirated 1.6-litre EP THP Prince engine, already the market's top performer.
More generally, PSA Peugeot Citroën leads the European market on the CO2 front, with the lowest CAFE (Corporate Average Fuel Emissions) of all with 110.3g/km in 2014. The Group has leveraged its engineering expertise to push fuel consumption down to as low as 70.6mpg (CO2 at 95g/km) for the EB Turbo PureTech 3-cylinder petrol engine.
The Trémery plant reached a milestone in January 2015 by producing its 40millionth engine and the Trémery-Metz industrial facility recently became the Group's leading mechanical components plant by manufacturing 1,577,000 engines and 893,000 gearboxes in 2014.