Philadelphia warms up for a festival season filled with music, malt and muggles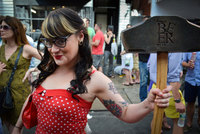 Between May and October 2015, a host of festivals will draw crowds to the 'Birthplace of America' to sample the city's eclectic outdoor cultural offering and Philadelphia Convention & Visitors Bureau has rounded-up a pick of the best festivals on offer.
Whether it's enjoying a tipple at America's largest beer celebration, Philly Beer Week, watching some of the world biggest music stars perform at The Roots Picnic or donning your finest wizarding attire at the Harry Potter Festival, Philadelphia is ready to kick-off its vibrant festival season with something for all the family.
Philly Beer Week from 29 May – 7 June 2015
The 2015 festival season will get off to a 'beer-lliant' start thanks to Philly Beer Week, running across a host of lively venues throughout the city between 29 May and 7 June. Philly Beer Week is a celebration of the best beer-drinking city in America and since it was established in 2008, it has become the largest beer celebration of its kind in America. Throughout the celebration, hundreds of mini festivals, dinners, tours, pub crawls, tastings and meet-the-brewer nights will wow beer lovers at destinations throughout Greater Philadelphia. Philly Beer Week highlights the region's diverse beer scene, its world-class breweries, neighbourhood taverns, trend-setting restaurants and rich beer culture and history – a must for all beer enthusiasts. For more information, visit phillybeerweek.org.
The Roots Picnic on 30 May 2015
The 8th annual Roots Picnic will see the likes of rapper A$AP Rocky and Philadelphia's own hip hop talent The Roots take to the stage to wow crowds of thousands of music lovers. Boasting three stages and 18 artists, The Roots Picnic will celebrate music of all genres on 30 May 2015. Doors to the day-long event at Festival Pier, Penn's Landing open at 11am ahead of the show getting underway at noon. Tickets start from £55. For more information, visit rootspicnic.com.
Wawa Welcome America Celebration from 27 June – 4 July 2015
The line-up for this year's musical element of the celebrations are still closely guarded, but based on previous years experiences when award-winning artists such as Ed Sheeran, Nicki Minaj and John Legend have wowed crowds, visitors can expect to see big musical stars perform on stage. The family-friendly celebrations will start on 27 June and run until 4 July 2015, culminating with a spectacular fireworks display to mark Independence Day. For more information, visit welcomeamerica.com.
Harry Potter Festival and Quidditch Tournament from 16 – 17 October 2015
Harry Potter's wizarding fans can come together for a celebration of all things Hogwarts- related at this special Harry Potter Festival in the charming Chestnut Hill. The two-day event on 16 and 17 October will start with a free Harry Potter conference and a pub crawl on the 16th, before finishing on the 17 October with a Quidditch competition and Potter-themed activities. Fans of Harry, Ron and Hermione can don their favourite robes and revel in Potter-mania over the course of the festival with events such as Sorting Hat demonstrations and Defense Against the Dark Arts classes. For more information and to find out which events require tickets, visit chestnuthillpa.com/showcase/harry-potter-festival.
Other events taking place across Philadelphia this spring and summer include Center City Jazz Festival on 25 April 2015, the Rittenhouse Row Spring Festival on 6 May 2015, the beautiful Spring Blooms at Longwood Gardens until 31 May 2015 and the delicious Night Market Philadelphia.