Wilton Classic & Supercar Show gears up for record-breaking year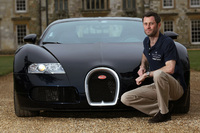 Millions of pounds worth of classic and supercars are set to grace the lawns of Wilton House this summer with the two day event set to showcase some of the world's greatest cars.
Wilton Classic & Supercar with Castrol EDGE on June 6/7 has already attracted a prestigious range of cars and motorbikes which organiser Lord Pembroke said includes almost every Bugatti ever made.
There will also be the first public viewing of an Alfa Romeo Giulietta Zagato Prototype which was discovered recently in the USA after 50 years and the Bloodhound Project car ahead of its world record attempt later this year.
Supercars lined up to appear include a McLaren P1, La Ferrari, Porsche 918 Spyder, 0ne-77 Aston Martin, a Veyron Pur Sang and a Veyron Super Sport WRC.
Saturday June 6 is dedicated to classic cars with the Sunday focussing on supercars and both days offering visitors hundreds of cars to admire, a live restoration project, interactive stands, live music and a host of food and trade stands.

Event ambassador Tiff Needell will be on hand to host the daily parade interview sessions and talk to visitors about a whole host of motoring-related topics.
"This is a great event in the motoring calendar and I'm thrilled to be involved this year,'' said Tiff. "It's a great excuse to spend two days surrounded by some amazing cars and bikes from rare old classics through to the very latest supercar technology.''

There will also be prizes for the very best cars on display and the launch of a brand new category the Concours d'Histoire which will recognise great stories behind some of the cars at Wilton Classic & Supercar show.
"We will have our Classic Car of the Show and Supercar of the Show trophies together with Spirit of Wilton but we have so many cars with great stories that we wanted to create a special award to highlight lesser known stories,'' said Lord Pembroke. "We have great barn finds, local cars which have been in families for decades and others which have driven around the world and we want to tell their stories.''
More than 500 cars and bikes are expected to be on display over the two day event on Saturday June 6 and Sunday June 7 with tickets now available online:

bradsons.co.uk/tickets/2015/06/06/wilton-classic-and-supercar-show-2015/

Early bird tickets are priced from £16 for a daily adult pass.
To keep up to date with news about the event visit wiltonclassicsupercar.co.uk.