The pizza capital of the UK revealed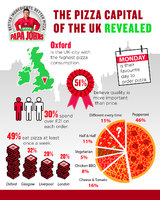 The argument has finally been settled – residents of Oxford have been revealed as the nation's biggest pizza lovers, according to a new study.
The surprising research from Papa John's into pizza eating habits has found that a staggering 49% of city natives sampled eat at least one take-away pizza a week – with almost one third of people spending over £21 on every order, more than any other city in the UK.
Unexpectedly, the results also uncovered that Oxford locals enjoy ordering pizza on a Monday more than any other day of the week. So Papa John's has decided to reward all pizza lovers in Oxford over the coming May Bank Holiday weekend by extending its Papa's 'Quality Guarantee' promise and declaring a 'Campaign for Better Pizza'.
Papa John's became the first pizza chain in the UK to offer a no-quibble 'Quality Guarantee', driven personally by the company's founder and CEO, Papa John, and his obsession with fresh quality ingredients in all of his pizzas. Through the 'Quality Guarantee', in the unlikely event that a customer is not totally satisfied with their Papa John's pizza, they can request a replacement completely free of charge.
As part of the pizza chain's exciting commitment to the pizza-loving people of Oxford, for one weekend only, from Saturday 2nd May – Monday 4th May, they are extending the Papa's 'Quality Guarantee' and pledge that if a customer is not 100% happy with the quality of their pizza from another national pizza delivery chain, Papa John's will replace it like-for-like, free of charge and no questions asked.
Commenting on the survey findings, senior marketing director, Andrew Gallagher, said: "The people of Oxford really love pizza. They eat more and spend more on take-away pizzas than anyone else in the UK. But they also demand quality – more than half of the people we asked said that quality food is the most important consideration when ordering a take-away pizza.
"Our Quality Guarantee underlines our confidence in our own pizzas, and it makes sense for us to offer to replace other pizzas if the quality doesn't measure up to the exacting standards of Oxford's pizza fans. We believe that the greatest pizza-lovers deserve to enjoy the best pizzas, guaranteed." he added.
To claim the offer, Oxford residents must visit campaignforbetterpizza.co.uk. An online proof of purchase receipt must be submitted with the claim to qualify for a free replacement pizza.
Papa John's was founded in the USA in 1984 and there are now almost 300 stores across the UK, each fulfilling John's 'Better Ingredients. Better Pizza' philosophy. Papa John's has more than 4,600 stores in 36 countries.