Nikal expands with purchase of luxury house builder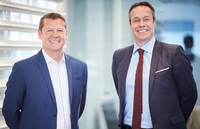 Nikal Group has supported Michael Kennedy, Managing Director of luxury house builder Hillcrest Homes Ltd, in a management buyout.
The deal, for an undisclosed sum, brings the Hillcrest Homes brand under the Nikal umbrella whilst continuing to trade as a limited company. Kennedy remains at the helm as MD, alongside his existing Hillcrest team.
Hillcrest Homes was established in 1985 as part of Warrington based construction group, Cruden. Michael Kennedy joined the firm in 2002 as Sales Director and was appointed to Managing Director a year later.
Under Kennedy's leadership, the Hillcrest brand has become synonymous with 'originality', 'luxury' and 'quality', establishing an impressive and award-winning portfolio of high-end residential dwellings in affluent Cheshire villages, such as Prestbury, Alderley Edge and Hale.
More recently, Hillcrest has concentrated on select developments of high quality executive homes in desirable towns, such as Knutsford, Didsbury and Chorlton, securing the majority of sales 'off-plan' despite a challenging residential property market.
As part of the Nikal Group, Hillcrest will continue to deliver premium residential schemes of executive housing and will expand it's areas of operation to include the development of brownfield sites within Manchester City Centre, the wider North West region and other areas of the UK.
Whilst still crafting speculative residential developments, Hillcrest will also welcome commissions for bespoke private dwellings as well as JV and 'partner developer' opportunities with private and commercial landowners and investors.
Says Alan Murphy, who co-founded Nikal in 2003 with Nick Payne, "Nick and I have wanted to broaden our development base for some time and the house building sector has been a key target. This is a strategic purchase to take advantage of the shortage of housing in the UK. With cross party political support, the housing sector is an exciting opportunity for us.
"We have put in place a strategy for the business that identifies routes for substantial and sustainable growth and expansion, and already have a number of prime development sites and joint venture opportunities in advanced discussions. Our future together will be very exciting," he added.
Kennedy and his team will continue to develop existing projects, including 'Riverside Place', a select development of thirteen Georgian style townhouses off King Street in Knutsford, and 'Westbrook Villas', a joint venture of twelve contemporary properties with Victorian influences off Brook Lane in Chorlton's Beech Road Conservation Area.
New opportunities include a development of eight contemporary properties in a lakeside setting in Poynton and a joint venture scheme of executive townhouses in Ancoats, in Manchester City Centre.
Says Michael Kennedy, "Nikal is a dynamic, progressive and forward thinking company with an outstanding reputation and excellent contacts. The opportunities and resources afforded Hillcrest from this new association are phenomenal and will allow us to undertake more development and escalate brand awareness on a regional and national scale."
Hillcrest Homes has moved to new premises at Nikal's MyBuro offices on Market Street in Altrincham and will shortly be launching new branding and a new website.