House hunters' dream locations revealed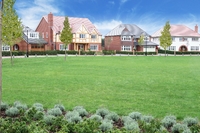 The UK's aspiration to live beside the sea is as strong as ever, according to new research from leading housebuilder Redrow.
An analysis of the views of 2,000 UK adults reveals that more than four in ten (43%) dream of owning a home by the coast, while almost 60% long to live by the water more generally with 16% looking to reside alongside a river.
This research chimes with the Office for National Statistics' (ONS) mid-2018 migration data which shows that the South West, well-known for its diverse coastline, experienced the greatest internal migration net flow, with more people moving to local authorities (30.5 people per 1,000 population) within the region than those leaving (25 people per 1,000 population).
The housebuilder's research saw a clear preference for living by the coast from respondents in every UK region – apart from London where more people want to live in a suburban residential area. 29% of people who live in the North West want to live in the countryside and 23% of residents would like to live in a village.

When it comes to the younger generation of aspiring and current homeowners aged between 18 and 34, living near the coast ranked in fifth place in terms of preference. Most respondents within this age group want to live in a suburban residential area (31%), followed by the countryside (30%) and a city or large town (27%).

More generally, living in the countryside was Brits' second preference, with more than three in ten (31%) saying this would be the location of their dream home. More than two in ten (21%) of all respondents specifically want to live in or near to a national park or Area of Outstanding Natural Beauty (AONB). Having recently celebrated their 70th anniversary, national parks are considered a good investment – with property prices in each of the UK's 15 national parks experiencing price rises over the last five years, according to data from estate agent Savills.

Claire Jarvis, Group Sales Director at Redrow, comments: "From seaside spots to suburban towns and quaint villages, the UK's property market offers buyers a huge variety of destinations to consider. Residing beside the water has long been and continues to be an aspiration for British homeowners. However, it is interesting to see homes in residential towns in demand from both Londoners and those aged between 18 and 34 years old. With the use of Help to Buy we have helped hundreds of aspiring first time buyers and second steppers purchase their dream homes within suburban communities such as Woodford Garden Village, near Manchester. On sites like this, which are often high-density and mixed-use, we look to provide high-quality services such as schools and parks, and improved infrastructure that come together to create thriving community spaces in which residents love to live."

Jason Newton, Sales Director at Redrow Homes (NW), commented: "Our recently launched Millstone View development, in Penymynydd, is surrounded by countryside but is only five miles from Chester meaning residents can have the best of both worlds. Also for the 43% of who said they wanted to live by the coast, Millstone View is located only a short drive from the beautiful beaches and coastal walks of North Wales. This development features a range of three and four-bedroom homes starting from £294,995.

"For those wanting to live in a suburban community, Woodford Garden Village is located on the site of the historic former aerodrome at Woodford and is within commuting distance of Central Manchester, whilst also being close to the gateway of the Peak District National Park. And, for the 23% of North West respondents who said they would want to live in a village - the villages of Woodford, Bramhall and Poynton are also close by. There is a variety of homes available for homebuyers at all stages in their lives, from first time buyers who can use the Help to Buy scheme to families who need more room to grow and can use Redrow's Help to Sell initiative. Woodford Garden Village will have numerous green spaces, including a traditional village green, plus a host of brand new amenities, including a school, sports facilities, a dedicated health centre and its own shops and stores."