School holiday travel pricing leaves many families squeezed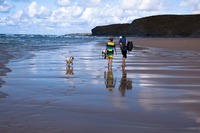 Traditionally, families have planned their annual getaway during the long summer holiday when school takes a break for six weeks or so. But parents are arguing that this logical strategy is becoming increasingly hard to maintain, as firms capitalise on the fact that it is difficult for them to travel at other times of the year.
The government's policy is to insist on schools fining parents who step out of line by giving children days off during term time, although children are allowed up to ten days off "in exceptional circumstances". It is up to the head teacher of the school to define exactly what these circumstances might be, but possibilities include, for example, the funeral of a close relative.
The result of this is that travel firms hike their prices during peak holiday times, with prices rising considerably at the most popular time of year - up to £750 more on average. It has been suggested that this expense may mean that the poorest families in Britain are prevented from holidaying at all.
However, recent polls have suggested that parents are increasingly rebelling against these high prices and the school rules against term time holidays, with 69 percent of parents saying that they would take their children out of school in term times despite any fines that might occur. Many think that any potential fine would be balanced out by the price of the holiday itself being lower.
However, it may be that in future this kind of defiant action won't be necessary and parents will be able to stay within the rules by being able to afford to take a break during school holidays instead of term times. From the 1st May this year, Air Passenger Duty is abolished for under-12s travelling in economy class, and from 1st March next year, it will be extended to under-16s too. This in itself will mean a noticeable saving when it comes to booking for the family, especially when travelling long haul.
But in addition to this, Paul Cookson, who is a father to an eight year old child, is urging airlines to increase the age at which children must pay a full adult fare from the current age of 12 to the age of 16, arguing that "If the government agrees children are not adults until 16, then it's only fair airlines do too."
Cookson's Holiday Price Increase Group has 19,000 followers on Facebook, who agree that the change would mean a considerable saving for families. He added: "If one airline acts, others will follow."
And it seems that airlines are not adverse to considering the move, as a British Airways spokesperson commented: "We have no control over when school holidays fall, but are happy to explore initiatives that help address the issue."
A Thomson and First Choice spokeswoman added: "We encourage customers, particularly those that need to travel during the school holidays, to book early."