Hotel Pulitzer Amsterdam launches Dutch Courage experience for World Gin Day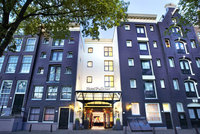 Gin is officially 'in' but who knew it was a Dutch invention? Hotel Pulitzer, Amsterdam has created a package to take guests on a journey of discovery to celebrate the history of gin and jenever in the country of its origins.
The 'Dutch Courage' experience launches when gin o'clock strikes on Saturday 13th June - World Gin Day. The package will reveal how the UK's love affair with gin began during the Dutch War of Independence, and present the spirit in classic and novelty forms.
A highlight of the package will be a visit to the House of Bols Cocktail & Jenever Experience where guests will learn to make and taste world-class cocktails using the oldest distilled brand of Dutch gin, Lucas Bols. They will tour through the Tasting Room and Jenever Hall in an interactive experience that ends with jenever cocktails in the Mirror bar.
The hotel will be getting in to the spirit too. After a day out in the city, guests can enjoy the use of an in-room pop up gin and tonic bar. For those looking for a taste of local culture, Chief Concierge Ron Stoevelaar will recommend the top jenever bars in the local area to complete the experience.
Guests choosing the Dutch Courage package can enjoy:
Three nights' accommodation in a Deluxe Room
Two tickets to the House of Bols Cocktail & Jenever Experience
Complimentary in-room pop up gin and tonic bar
Gin Guide to top five jenever bars in the local area as recommended by the concierge team
The package costs from €200 (approx. £145) per night, and is available until 31st October.
For reservations, visit pulitzeramsterdam.com.