Orange Is the New Black: Eight luxury prison hotels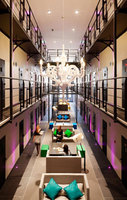 Emmy Award-winning drama Orange Is the New Black returns to our screens (via Netflix) this Friday. If the tales of Piper, Alex and the other inmates of Litchfield Penitentiary have left you longing for a prison-like experience, look no further than this list courtesy of trivago.co.uk. Once correctional facilities, these buildings have been converted into luxury hotels, boasting unique architecture, comfortable rooms and fine dining. Many retain original features, making it possible to spend the night in a prison cell – with a little added comfort.
1 Het Arresthuis, Roermond, Netherlands
Het Arresthuis is located in the quiet and picturesque Dutch town of Roermond, close to the German border. The building served as a house of detention and later a state prison until recent years, with the hotel opening in 2011. Guests can choose between comfort cells, made up of three former prison cells, and deluxe cells, which are housed in former recreation rooms. Although the original bars still line the windows, guests will find the cells transformed to comfortable havens complete with flat screen televisions, tea and coffee making facilities, rain showers and dressing gowns and slippers. Staff are happy to arrange flowers, chocolate or Rituals beauty products for special occasions – a far cry from life in prison.
2 Malmaison, Oxford, UK
The Malmaison Oxford is housed inside the former HM Prison Oxford, which is part of a Grade I listed medieval castle. The prison closed in 1996 and was reimagined as a boutique hotel, incorporating the original castle walls and many features from the prison. A range of 95 rooms and suites are available, including the cell double, cell superior double and rooms located in the adjacent House of Correction building. Malmaison prides itself for its unique concept and high standards, with each room boasting power showers, mood lighting, 24 hour room service and exclusive toiletries. Inmates won't have to worry about sub-standard food here: the stylish Brasseries serves generous portions of fresh, local and classic food.
3 Four Seasons Sultanahmet, Istanbul, Turkey
Four Seasons Sultanahmet is found in a century-old neoclassical Turkish prison in Istanbul's Old City, with the 6th century Haghia Sophia and the 17th century Blue Mosque a few steps away. Views of these landmarks are best enjoyed from the A'YA Rooftop lounge, which specialises in wines from different regions of Turkey and traditional Turkish snacks. The prison operated between 1919 and 1969, located adjacent to the courthouse and housing inmates awaiting trial or serving brief sentences. Today, the inner courtyard houses a lush garden and alfresco dining area. The spacious rooms and suites bear little resemblance to the former prison cells, boasting private bars, large plasma televisions and marble bathrooms complete with deep soaking tubs.
4 Langholmen, Stockholm, Sweden
Like many parts of Stockholm, Langholmen is situated on an island, incorporating a hotel, hostel, conference centre, restaurant and prison museum. The prison, which operated between 1725 and 1975, was one of the largest in Sweden, housing over 500 cells. Guests can visit the museum to see how former inmates used to live, or alternatively check into one of the hotel rooms – which are housed in former prison cells. The original windows remain, although the cells have been updated with contemporary design solutions to include flat screen televisions and other amenities. Guests can choose between single cells, double cells, family cells and even romantic cells, featuring sparkling wine, chocolate, dressing gowns and slippers.
5 The Liberty, Boston, USA
The Liberty is housed in the former Charles Street Jail, constructed in 1851 and formerly housing inmates such as Malcolm X and World War II prisoners of war. Today, this architectural gem has been redesigned to house a luxury hotel and six different bars and restaurants. While the former prison cells were just 80 square feet, the 298 rooms and suites range from 400 to 800 square feet. Guests can expect advanced technology and contemporary style, including mahogany woods and touches of stainless steel. Those wishing to see the original prison should head to CLINK restaurant, where guests can sit in parts of the original cells while enjoying modern American cuisine.
6 Lloyd Hotel & Cultural Embassy, Amsterdam, Netherlands
Not only is Lloyd Hotel located in a former prison, but it's also the world's first one-to-five star design hotel. This means the rooms range in comfort and price, from cosy one-star rooms to deluxe five-star suites, featuring grand pianos, swings, hammocks, milk bottle chandeliers and much more. Each room is unique, created using the inspiration of over 50 designers and artists, making the hotel an icon of Dutch design. A prison is just one of the hotel's former functions: it was primarily used to house immigrants, before becoming a prison, a collection of artist's studios and finally Lloyd Hotel in 2004. Today, the hotel strives to bring travellers and locals together by hosting cultural events ranging from design exhibitions to percussion performances and Japanese markets.
7 Best Western Premier Katajanokka, Helsinki, Finland
Best Western Katajanokka was previously the Helsinki Country Prison, serving pre-trial criminals from Southern Finland between 1837 and 2002. Extensive renovations, reportedly costing €15 million, were undertaken in order to create the hotel, although strict guidelines concerning historic buildings means the exterior remains largely unchanged. Sets of two or three cells were combined to create spacious and comfortable four-star hotel rooms, ranging from queen rooms to junior suites, accessible by the original prison corridor. Restaurant Jailbird has a prison theme, complete with exposed brick walls, barred windows and medieval-style chairs. Here guests can sample Scandinavian specialities, including the acclaimed President Ryti's beef.
8 Clink78, London, UK
Not technically a luxury hotel, but certainly a "posh hostel", Clink78 is found in a 200 year-old courthouse. The Clerkenwell Magistrates' Court previously housed The Clash, who were fined for shooting expensive racing pigeons and inspired the name of the hostel's late-night bar: Clashbar. The former courtrooms now serve as a TV and film lounge and a computer room, complete with the judge's podium and witness and usher stands. Guests can also choose to sleep in one of the original prison cells, which accommodate one or two people in bunk beds. Original features such as the heavy metal door, barred windows and steel toilet (no longer in use) remain, but the cells have been refurbished to add colour, warmth and humour.
For more information, visit trivago.co.uk.