Keep doors and windows secure this summer - and keep burglars at bay!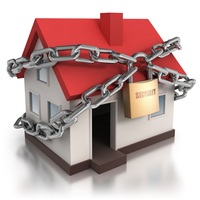 Taylor Wimpey is encouraging homeowners to make sure their home is safe and secure as the summer approaches.
During periods of warm weather, it's tempting to leave doors and windows open or unlocked, making properties an easy target for opportunistic burglars.
Government figures show that in nearly a third of burglaries where offenders are successful in gaining entry to homes, they get in through either an unlocked door or a window that's open or could be pushed open.
With larger numbers of people going on holiday during the summer and leaving their houses empty, unsecure and unguarded, it's also wise to take extra steps to deter burglars from getting in while you're away.
The good news is the number of home burglaries is falling across the country (down 8% in the year to September 2014 compared to the previous year in England and Wales)– and the Office for National Statistics says that improvements in building security are thought to be an important factor in driving reductions in domestic burglary rates.

To help home-owners keep their properties secure this summer, Taylor Wimpey is offering some helpful advice on guarding their house against crime:
Don't forget to make sure windows and doors are secure even when you are at home. It only takes a second for someone to get into your home and take things without you noticing, especially if you're upstairs in the shower or out in the garden.
Keep all wallets, purses, credit cards, car keys and other valuables out of sight – and well away from the letterbox – to avoid temptation for would-be burglars.
Garden tools can be used to help intruders break into your home, so keep them securely locked away and out of sight in a shed or a garage.
If you're going on holiday, ask a trusted neighbour to help keep your house safe by parking their car on your driveway, opening and closing the curtains each day, and picking up your post from the doormat.
Before you go, don't advertise the fact you're going on holiday on social networking sites – and wait until you're back home to post photos of you away.
Taylor Wimpey homes benefit from a range of security features as standard to give homebuyers peace of mind as they enjoy a family day out or a much-needed holiday this summer. All Taylor Wimpey properties are fitted with lockable UPVC double glazed windows, while high-quality locks and doors are fitted to all homes.
Gareth Jacob, Regional Sales and Marketing Director for Taylor Wimpey says: "As a responsible housebuilder, we understand that keeping your home safe is one of the top priorities for property-owners.
"Our new-build properties offer purchasers the peace of mind that they're protected by a range of security features to deter potential burglars – so they can relax and enjoy the summer holidays!"
Taylor Wimpey is currently building high-quality new homes at the following developments across the South Midlands:
Willow Lake, Bramble Walk, Heritage Park, Westlow Abbey, Chestnut Grove, Oasis at Buckingham Park, Billington Grove, Roman Gate, The Chilterns, Woodford Meadows, New Berry Vale, Clarence Park, The Paddocks, Steppingley Gardens, and Regent's Place.

Information on Taylor Wimpey developments across the region is available by visiting taylorwimpey.co.uk.