Your holiday wardrobe: what to pack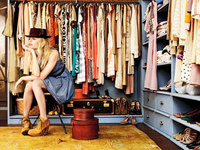 Ah, the dreaded holiday wardrobe. It's always an absolute nightmare, trying to work out what you do and don't need, what you can survive without and what you really shouldn't be taking at all. Don't worry, you can totally pull it off. The more experience you have with fashionable travel, the easier it will get (we promise). For now, here are some pointers on what to pack and how to keep stylish on holiday.
Have a travel outfit
Your travel outfit should be made of lightweight, warm layers. You can remove or add them, depending on your temperature. We all know how brutal the in-flight air conditioning can be, so stay wise and keep comfortable. Wear your heaviest pair of travel shoes, so it doesn't tamper with your luggage weight. Don't worry too much about how you look. Sitting on a plane for hours on end will make you thankful that you chose the softest, most comfortable options in your wardrobe. No-one expects you to look beautifully put-together while travelling. Simple and casual is absolutely fine.
Multitask your wardrobe
When you choose what to put in your suitcase, make all of your options highly versatile. Everything should be able to mix and match. This is the easiest way to downsize the volume of clothes that you need to take, and it's just way less hassle.
Practical accessories
If possible, see if you can leave some of your electronics behind (like that smartphone always attached to your hand), bit of a shock to the system, we know, especially when you realise that you almost exclusively relied on it to tell the time. Take a luxury watch with you instead (but not so expensive that you're likely to become a tourist victim), like these from Chrono24.
A little sparkle
A pair of gorgeous, colourful earrings, and maybe a matching bracelet, is all you need to add a little sparkle to your evening outfits. Again, make sure that it will match pretty much anything in your suitcase. There's no need to take your whole jewellery box with you.
Don't take overcomplicated hairstyle equipment
You really don't need to bother with your straighteners or hair-dryer, unless your hair really is extremely unruly. The messy topknot has become a pervasive fashion statement and go-to holiday hairstyle over the last few years. You can rock this easily with a few hair bands and grips. No problem.
Keep your luggage effortlessly simple
If you need a couple of suitcases for your beach holiday, you need to rethink your packing strategy. Be as minimalistic as possible. Ideally, you should be able to fit everything in an oversized holdall. The smaller the bag, the better. Style is effortless, and by proving that you only need a tiny suitcase of carefully packed items, then you are showing that your holiday fashion game is strong. The key to looking on-trend abroad is to make it look absolutely effortless.