Nesting? 6 simple ways to personalise and update your home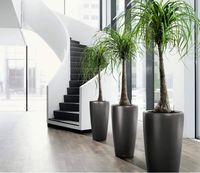 Have you got some serious nesting urges? You're not alone. Whether you're expecting a baby, or you just want to make your house a home, there are so many ways that you can spruce up your place to make it feel more cosy.
Wall art
Wall art makes any home feel more personal and injects colour or interest into the room. Houses can often feel like unloved shells, until you start hanging up your favourite pictures. You can buy prints from your favourite artists, but this can work out to be quite expensive. Instead, you can go to a website like Lumas and find affordable artwork or photography. It doesn't have to be pricy to look lovely. Another great bonus of hanging up pictures? It can cover up any blemishes or wear and tear from over the years.
House plants
Choose plants that aren't going to die easily. Trailing ivy, for example, isn't going to perish from a little neglect – something with longevity is always best. Adding greenery to your home really makes it feel more dynamic and lived-in. House plants can bring colour to dreary rooms and can even be useful in the kitchen (chilli and tomato, for example).
Sense of smell
Don't just excite your sense of sight, your sense of smell needs to be tantalised too. Depending on what you like best, fill your home with scented candles or just bake to your heart's content, making the home smell of fresh cookies. Sometimes it's the simple things that have the greatest impact.
Craft hobbies
Are you a little creative? If you're a dab hand at sewing, create your own funky pillow cushions. If you're a fan of crocheting, start a patchwork blanket project. It's all the more personal because you made these decorations yourself; plus, they are functional, and can save you money. If you don't have any crafts under your belt, now's the time to start! It's not as hard as you think.
DIY/Upcycle
Do you have some pretty tired looking pieces of furniture around your house? It's nothing that a bit of paint and some TLC won't fix. Buying new furniture is painfully expensive, so reuse what you can. If you have a dresser that's missing some drawers, pull them all out, paint your dresser, and use it as shelving storage or a bookcase. There are so many things you can do, it all just takes a little time and effort.
Illumination
Bring warmth to your home by installing lamps, candles, and fairy lights (or whatever light sources you like best). A dark house is never going to be welcoming. Take the edge off with illuminative fixtures; this is especially important in winter. Maybe even consider installing a wood-burning stove, so you can have the warm glow of a roaring fire.