Fantastic summer trends for 2015 (that actually rock)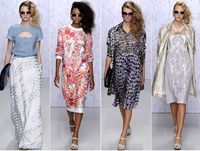 Are you looking for some inspiring trends to get you through the summer season? As the temperature rises, it's a great excuse to update last year's tired outfits and equip yourself for your vacation. Here is what is hot right now, for the warmest season of the year.
The seventies
It wouldn't be summer unless boho chic was storming the streets. It has all gone a bit 70s this year, with long, flowing maxi dresses in deluxe hippy prints. This means you can look on-trend and keep cool all day long. Seventies maxi dresses won't look out of place on a beach, at a festival, or even just in your local café. It's such a versatile option.
Asian
Japanese-inspired kimono shapes are almost universally flattering. Coming in gorgeous eastern prints, the Asian inspiration has been all over the catwalk this summer season. Look for your very own kimono-shaped jacket or dress in any of the main high street stores.
Modern romance
Classic dresses in floral and lace are just what you need to spark off a summer romance this year. Cute and fresh, modern romantic dresses usually come in flattering, vintage cuts. It's well worth wearing this style with statement jewellery or flower hair accessories.
Shirt dresses
Semi-professional, shirt dresses are a sophisticated option for a day spent walking around the city. Choose light, breathable material, so the summer sun doesn't make you overheat. You can dress them up or dress them down with ease.
A little blue
Beautiful shades of blue are all the rage this summer. Wear it on a classy dress, paired with heels and silver jewellery. A sleek jersey dress from Peter Hahn will do the trick. Alternatively, choose a lightweight pale blue shirt to go with your jeans, for a more casual look.
Ballerina
There are ways to wear the ballerina style without looking like a 9-year-old on her way to pirouette class. Floaty, pearl pink dresses and skirts will look gorgeous this summer. Tie your hair into a high bun and go for one of the most elegant trends out there. Don't knock it before you try it!
Lady in red
If you can pull off red, this is going to be your summer. Bold reds are so in at the moment. Make a statement in a wrap-around dress and strappy heels. If you want to take it to the next level, curl your hair and it fix it into a sultry and seductress 1940s style. Pair with a matching red lipstick, and walk down the street with confidence. If you think that red doesn't suit your complexion, you may be surprised. There is a shade of red for everyone – you just need to find the one that complements your colouring.
What is your favourite summer trend this year? Let us know in the comments below or send us pictures of your signature outfits. We'd love to hear from you, so get in touch!