Bargain building with Aldi's great value gear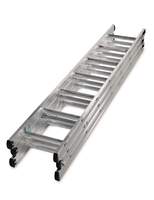 Whether a builder by trade or simply a DIY enthusiast, you'll find all you need at Aldi. With everything from quality tools and accessories to protective clothing and footwear, keep an eye out for the Aldi Specialbuys Building range, available in stores 5th July.
Stay secure when working at a height with this heavy duty Triple Extension Ladder (£79.99). Featuring wide, slip-resistant D-rungs for safety and comfort when climbing, this ladder is also ultra-portable thanks to its lightweight aluminium frame.
Aldi's Building range also features a number of great value tools including this Hand Riveter Set (£4.99) and a Gas Powered Mini Soldering Iron (£14.99) which is perfect if you're planning to do some electrical work.
If you're looking to replace a wall socket, why not pick up Aldi's Single or Double Switches/Sockets (single £1.69, double £2.49). In addition, Aldi's Cable Access Kit (£6.99) is the ideal tool for feeding wires and cables under floorboards or through wall cavities without making a mess.
These Four Assorted Storage Boxes (£9.99) are perfect for organising useful tools and equipment such as Cable Ties (£3.99), Tape Selections (£2.49) or a Damaged Screw Remover Set (£4.99).
Aldi has a wide selection of top quality, functional clothing from Men's Work Trousers (£8.99) and Workwear Shorts (£6.99), to Work Socks (£2.99) and these practical Men's Utility T-shirts (£4.99).
Safety is key so make sure you've got your Builders Gloves (£2.99), Workwear Knee Pads (£3.99) and Workwear Boots (£14.99) before entering any form of construction site.
Aldi's Specialbuys Building range goes into stores nationwide on the 5th July but don't delay, as once it's gone, it's gone!