Five occasions to celebrate at Tyddyn Llan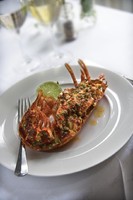 Michelin-starred Restaurant with Rooms Tyddyn Llan, on the edge of Snowdonia in north Wales, has planned five special wine dinners between September and November leaving aficionados of Bryan Webb's unique cookery style spoilt for choice.
The series of events commences on 9 September with a dinner hosted by legendary Australian wine maker John Duval who, as Chief Winemaker at Penfolds – one of the country's oldest and best known wineries – oversaw one of the most dynamic periods of change in the Australian wine industry.
John Started his own wine label in 2003 and the dinner will feature some of his stunning wines, a different one to accompany each of Bryan's dishes.
On Friday October 9th Bryan will indulge in two of his favourite dishes; lobster and grouse. The event which has been taking place for a number of years will be hosted by Simon Awdry of Bibendum wines, who will select appropriate liquid accompaniments for each dish.
A very special event will take place on Sunday 25 October when legendary Radio 2 DJ (and friend of Bryan Webb's) Johnnie Walker will host a dinner in aid of the charity of which he and wife Tiggy are patrons, Carers UK.
Sunday November 1st is going to be the date for the annual Champagne dinner hosted by Guy Cliffe of Louis Roederer. Bryan will be busy concocting each course in the kitchen, whilst Guy provides a tutored tasting in the restaurant of a number of different glasses of Champagne.
On Sunday 15 November Tyddyn Llan will celebrate a double anniversary; Bryan and Susan Webb's 14th year at the Restaurant with Rooms plus a 10 year association with Bentley's wine merchants of Ludlow. Bentley's supply Tyddyn Llan with most of its top-end, fine wines and a tutored tasting will accompany each dish.
All dinner prices include wines and cost from £90-£95 pp.
So that guests can fully enjoy the dinners and not have to worry about driving home, a reduced B&B rate of £60 pp (two sharing) is offered for each event.
Room upgrades from £15 - £40 pp (subject to availability) and extra nights from £100 pp (dinner, bed and breakfast).
Well-behaved dogs welcome in some rooms.
Full details of the menus for each dinner will be available closer to the events.
For more information, visit tyddynllan.co.uk.