Discover water wonders in Breckenridge, Colorado this summer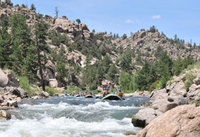 When it comes to getting outdoors and onto the waters, there's no better place than Breckenridge in the heart of Colorado. The mountain town's summer rivers, pools and lakes provide an outdoor activity playground with the likes of fly fishing, white water rafting and paddle boarding tempting locals and visitors alike to don their water gear and experience the best of Breck.
This summer, Breckenridge Tourism Office has rounded up its top pick of water sports for visitors to experience on a trip to the stunning mountain town.
Experience White Water Rafting By Moonlight
Take rafting one exciting step further this summer with a full moon white water rafting experience. The trip begins at 7pm with a delicious fajita feast as the sun sets, and just as the moon begins to appear over the Arkansas River Valley, rafters will begin their journey down Browns Canyon. The white water is exciting enough for seasoned paddlers, but not too scary for first-timers. Trips depart two nights per month throughout August and include glow sticks, a delicious fajita feast and wetsuit. Prices start from £76 and for more information, visit theadventurecompany.com/whitewater-rafting/full-moon-raft-trips.
Experience The Ultimate Overnight Fly Fishing Trip
Fly fishing pros and newcomers alike, can experience the ultimate fishing experience with an overnight trip, which allows guests to enjoy a full day of fishing and a beautiful boat ride experience. In addition to this, once the day's fishing comes to a close, a luxury tent will be set up for guests to enjoy a peaceful night under the stars. The next morning, guests can dine on a hot breakfast before donning their waders and getting out onto the river before anybody else. Prices start from £808 based on two sharing. For more information, visit breckenridgeoutfitters.com/OvernightDetails.
Combine Stand Up Paddle Boarding With Yoga
Thanks to the 300 inches of fresh snow that falls in Breckenridge during the winter months, as the weather warms up and the snow begins to melt, stunning crystal-clear water runs off the mountains and feed Breck's streams, rivers, waterfalls and nearby lakes. Stand-up-paddle-boarders looking to step it up a gear can put their balance and concentration to the ultimate test with SUP yoga, and by combining the two fitness trends, holidaymakers can try out the ultimate wellness experience. A basic knowledge of yoga is advised but complete new-comers to SUP are welcomed too. The morning lessons are offered at either Maggie Pond or Dillon Marina. Prices start from £23 per person, which includes equipment, yoga and paddle instruction, and for more information, visit metayogastudios.com.
Conquer Kayaking At Breckenridge Kayak Park
Newcomers to kayaking or those with experience already behind them, can perfect their skills at the 1,800 foot Breckenridge Kayak Park. Visit the water park, which is the longest in the state and includes 15 water features that challenge all levels of boaters from beginners to experts. The park is in the Blue River, just east of the Recreation Centre and is open free of charge but visitors must provide their own equipment, which can be rented from nearby outlets. For more information, visit townofbreckenridge.com/index.aspx?page=1059.
For those looking to experience Breckenridge for themselves, packages from the UK include:
Seven Night Room-Only Package to Breckenridge and Denver, from £1,405 per person
America As You Like It is offering a seven night, room-only package to Breckenridge and Colorado, from £1,405 per person. Price includes return flights from London Heathrow to Denver with British Airways, seven days fully-inclusive economy car hire, one night room-only at the Baymont Inn and Suites Denver Airport and six nights room-only at the Doubletree by Hilton in Breckenridge. Price is based on selected departure dates in September and is based on two adults sharing. For more information, visit americaasyoulikeit.com.
For more information on Breckenridge, visit gobreck.com.