Rickshaw Travel highlights top 5 homestay options to make travellers feel like locals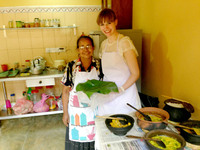 Rickshaw Travel's drive towards developing meaningful travel experiences was recognised this year when they were awarded the Travelife Better Places Partner by ABTA. Rickshaw believe travel can be a huge social and environmental benefit to the destinations they work with and they aim to maximise the benefit of tourism whilst minimising the impact and working as sustainably as possible.
More and more holidaymakers are opting for immersive travel experiences where they can join in with the local community and get an authentic view of a destination. Rickshaw Travel creates meaningful travel itineraries and homestay options that bring travellers closer to the country they're visiting. Through authentic homestays guests will come face to face with new cultures and meet entirely new people with a completely different view of the world. Hugh Felton, from Travelife, Sustainable Tourism Executive said; "Rickshaw Travel is 'one of the pioneers of the scheme and early adopters".
Here they highlight their top 7 travel options that both give back to the locals and provide a very special insight into some of the world's fascinating and remote communities.
Sri Lanka: At Home in the Curry Kitchen

Travellers will get a real taste of Sri Lanka on this traditional homestay option. It's an authentic way of learning the secrets of traditional Sri Lankan cuisine and experiencing daily life with a friendly local family just outside Kandy. Guests will find their home for the next three days hidden behind the trees and nestled in a colourful garden. They will be welcomed with open arms and treated as if they're family. For those who want to get truly involved with the Sri Lankan way of life, the family will take travellers by tuk tuk into the market to gather herbs and fresh produce before preparing a famous curry with the cook of the house. It's a very tasty introduction to everyday life at home with the locals.
Prices start from £228 per person (based on two sharing) for two nights accommodation on a full board basis. Price also includes transfer with a private driver and excursions as described. Flights are not included but can be arranged through Rickshaw Travel.
Borneo: At Home with the Headhunters

'At Home with the Headhunters' provides a rare and unforgettable glimpse into the lives of the once feared Iban people and their longhouse homes. Approximately 4 hours from Kuching, travellers will find one of the more remote areas of Sarawak, the Batang Ai National Park. The adventure begins on board a motorised wooden jungle boat which will take guests deep into the jungle. The Iban tribe was once feared due to their practice of 'headhunting' but these days they are peaceful people who live off the land in harmony with their neighbours practicing traditions that have been carried out with pride for centuries. Entire communities of up to 30 families live in traditional 'longhouses' - long one-story houses built on poles high above the banks of the river. Guests are invited to stay with the tribe in their long house where they can share their culture and traditions, eat tasty local delicacies and get an insight into the Iban way of life.
The 3-day, 2-night trip starts at £288 which includes accommodation in a rustic jungle lodge (price based on two sharing), return boat transfers to Kuching, visit to Iban long houses, guided jungle walk and most meals.
Nepal: Namaste! Warm Welcomes in Nepal

The Nepalese are known for their warm welcomes and this tour gives a rare insight into their hospitality and culture whilst helping support the local community. Travellers are collected from their hotel in Kathmandu and transferred to the small town of Panauti, one of the oldest in the Kathmandu valley. Here they'll find narrow alleys paved with stone, terracotta dwellings and red-brick temples and they will be welcomed into a local family home for their stay. According to Rickshaw Travel's partners in Nepal almost all the buildings in this part of greater Kathmandu are still standing following the recent earthquake and less than 1% require reconstruction while its streets are busy as ever. Depending on the time of year, guests can help out with the rice harvest or other farming activities or lend a hand in the kitchen with some traditional Nepali home cooking. Guests can expect tasty dhalls, aromatic cumin potatoes and spicy ginger tea during their stay. This homestay programme is part of a Nepali community project where local women open up their homes to visitors. Not only does this allow tourists to learn more about the Nepali psyche and gain a better understanding of the local customs, but also provides these women with a much needed source of income.
Prices for the bite-size trip start from £65 per person, based on two people sharing. This includes one night in a basic Nepalese family home, meals and transfers from Kathmandu. Those wishing to spend more time in Panuati can extend they stay to two nights, giving more time to explore the nearby sights of Khopashi, Namobuddha and Kanteshowri. Prices for a two night stay cost from £95 per person.
Nicaragua: At Home with the Nicos

Experience life 'at home with the Nicos' in San Ramon. During this homestay option guests spend the night with a local Nico family in their modest house and encounter the local culture and food. In the evening guests can roll up their sleeves and help prepare the family meal before everyone sits down to eat together. The homestay is also part of a community based project, which puts much needed funds back into the local area. Local families open their homes to help supplement their income, while those travelling experience a truly authentic, hospitable rural experience. The home stay is located in a remote area surrounded by lush vegetation and coffee plantations. It's an ideal option for those that want to get behind the scenes and experience the real Nicaragua.
This 2 day bite-size trip costs £38 including accommodation (based on 2 people sharing), 1 breakfast, 1 lunch, 1 dinner, a guided nature walk and tortilla making.
Thailand: Village Life by the River

In this homestay in Surat Thani – Khlong Noi a Thai family warmly welcome travellers to experience 'Village Life by the River'. Guests can enjoy a guided boat tour along the river and can visit a village community project where the locals clean the river and mangroves to ensure their fishing practices are maintained. Guests can also assist the villagers with shrimp fishing, palm leaf weaving, carpentry or any other of their daily activities before relaxing in the gardens alongside the river and indulging in a traditional Thai evening meal with the host family.
This 2 day bite-size trip costs £168 including accommodation based on 2 people sharing, meals, arrival transfer and excursion.
A Taste of Life on the Mekong

Leaving the honking scooter horns and rapid pace of the city behind, travellers will head into a completely different world of riverbank villages, jostling floating markets and small local producers of coconut candy, honey, rice crackers and exotic fruit. They'll spend the night in the home of a local Vietnamese family to learn about their way of life and, perhaps most importantly, how to cook those delicious delta specialities. They will wake up to the tantalising smell of a home cooked breakfast and won't want to leave!
This 3 day bite-size trip is priced from £198 including accommodation (based on two people sharing), dinner and breakfast at the homestay, sightseeing along the Mekong by boat and transfer with guide between Ho Chi Minh City and the Mekong
From Mountain Ridges to Hidden Villages

Trek between soaring mountain peaks through a remote region of the Annapurna Mountain Range. The local people here have collaborated with the United Nations Development Fund to create a unique trek where hikers will stay at eco-lodges and family homes. This trekking experience will give guests the opportunity to view the culture and village life of the locals, see wonderful wildlife in their natural Nepalese habitat and be surrounded by beautiful mountainous backdrops. Guests will be welcomed into local homes, some of which being charming eco-lodges. They will fall asleep after feeling the comforting warmth of home-cooked Nepalese meals in their stomachs and wake up to watch the sun rise over the Annapurna Mountain Range.
The 6-day trek is priced at £395 including accommodation (price based on two people sharing), all meals during the trek, return transfer from Pokhara, English speaking guide and 1 porter per 2 people.
For more information visit: rickshawtravel.co.uk.