Marco Pierre White to host Champagne lunch and dinner at Cadbury House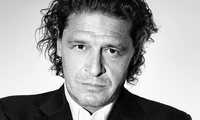 Fans of Marco Pierre White can meet the great man himself as he makes one of his regular visits to his restaurant in Congresbury, North Somerset.
Regarded by many as the greatest UK chef of all time, White will be popping in to his Steakhouse Bar & Grill at DoubleTree by Hilton, Cadbury House on Monday 7th September where he'll meet and greet diners and sign copies of his books during both lunch and dinner service.
Marco will also be casting his expert eye on the brand new 'Garden Room' at the restaurant, a state-of-the-art conservatory which boasts views across the North Somerset countryside.
Colin Badcock, general manager at DoubleTree by Hilton, Cadbury House said: "It's fantastic when Marco comes to visit, our customers love meeting him and it's great for staff morale as well. Marco has a lot of charisma and is wonderful with the public so we're really looking forward to welcoming him back.
"We've devised two special options for the day with all guests getting the chance to meet Marco themselves. The first option is a book signing with a luxurious four-course lunch, while the second option is a book and branded apron signing as well as a glamourous six-course dinner.
"Customers will be treated to a specially created menu, Champagne and the chance to meet Marco. There's going to be a real buzz of excitement on the day and we're expecting to sell out so anyone interested should get in touch soon.
"It's also a great chance for us to show off our new Garden Room which is just stunning."
At lunchtime Marco will personally sign a copy of Marco Made Easy and guests will enjoy a four-course Champagne lunch costing £45 per person.
Or join him for a personal signing of White Heat and a special apron followed by a glamorous six-course Champagne evening dinner for only £79 per person or £150 per couple. Group discounts are also available for bookings of 8 or more people.