Dive in: Jaw-dropping poolside properties around the world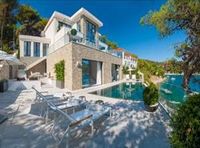 There's no better place to relax and unwind than by a dazzling swimming pool. Whether it's basking in the sunshine, taking a refreshing dip to cool down, or sipping a cocktail with your toes in the water, pools are the pièce de résistance of many second homes. These stunning properties across the globe all feature one-of-a-kind pools which should entice everyone to take the plunge.
Villa Ivy, Pin & Pin, Croatia
Villa Ivy is a majestic property bordering a picturesque bay on the south side of Brac Island. The 500sqm, four bedroom home is spread over three floors and features a gymnasium, wine cellar, home office and private mooring.
The villa's main feature is the spectacular infinity edged swimming pool with uninterrupted views over the serene bay. For those that love outdoor living, the property is perfect for entertaining, whether it's enjoying the views from the pool or diving off the floating dock below. The architectural design combines modern lines with traditional materials to complement the villa's surroundings and offers open-plan living enhanced with floor to ceiling retractable windows.
€2.8million
For more information, visit pinandpin.com
Turtle Point, Rocksure, Antigua
The newest villa in Rocksure's Crystal Fund is the spectacular Turtle Point which overlooks Antigua's breath-taking Nonsuch Bay. The property's glass terraces and floor-to-ceiling windows open out to the impressive infinity pool boasting striking views over the coastline - the perfect spot for a relaxing sundowner or invigorating early morning swim.
Specialists in shared equity ownership, Rocksure offers the chance to own a share of this incredible property from as little as £115,000. Founded in 2006, the company specialises in co-ownership of a portfolio of luxury properties via various Funds. Each of the properties can be enjoyed by investors for a generous number of nights each year over the life of the Fund. The apartments and villas are located in some of the world's most coveted destinations and investors will be able to realise their monetary investment when, at the Fund's end, all of the properties are sold and the proceeds, together with any capital gain, are distributed amongst shareholders.
The Crystal Fund is the latest of the villa funds with properties to be purchased in destinations including Andalucía, Antigua, Rome and Provence with investment from £115,000 and a life span of 7 years.
For more information, visit rocksure.com
Abama Luxury Residences, Tenerife
Located in Guía de Isora on the west coast of Tenerife, the Abama Custom Villa Plots occupy front line positions on the golf course. Each plot allows owners to custom-design their dream home including bespoke swimming pools featuring panoramic views over the Atlantic Ocean and the island of La Gomera. With an average annual temperature of 18-24 °C, the Abama resort is the perfect year-round destination for poolside living
The wider Abama resort features amenities of the highest calibre with access to 10 restaurants (two of which have a total of 3 Michelin stars between them) the Ritz-Carlton, Abama hotel, Dave Thomas golf course, 7 tennis courts, 9 additional swimming pools, luxury boutiques, spa, kids club and golden sand beach.
Abama Custom Villas from approximately €2 million including plot, construction, permits, licences and fees.
For more information, visit abamahotelresort.com
La Manga Club, Spain
Established over 40 years ago, La Manga Club is a mecca for sports and wellness enthusiasts boasting some of the finest tennis, golf and football facilities in the whole of Europe. It has 28 tennis courts, 8 football pitches and 3 immaculate golf courses as well as volley ball, boules and padel courts, over 15 restaurants and bars, a 5* hotel, 4* apart hotel, indoor and outdoor pools, an expansive 2000sqm spa, fitness centre and a rustic beach.
At the epicentre of the resort's existing communities sit two rare plots that have just become available. These vast 2,000sqm plots have space to build breath-taking infinity pools with views over the Mar Menor and the national park which rolls out beyond the resort boundaries. Each of the plots has been aligned with the very latest modern design to offer two exceptional six bedroom, six bathroom villas. Ideal for those seeking the very latest in high tech finishes and modern architecture, the properties make the perfect homes for entertaining large groups of friends or family thanks to their Jacuzzis, infinity pools, large terraces, open plan living areas and cinema rooms.
Total cost for plot and custom villa €2,500,000
For more information, visit lamangaclub.com
L'Amandier, Morocco
Just an hour from the hustle and bustle of the city of Marrakech, L'Amandier is a boutique 12 acre estate with just fourteen villas and a luxury hotel set for soft opening in October 2015. Designed by London-based architect Nick Gowing, the resort has established a new architectural vernacular marrying elegant modern living with traditional Moroccan heritage.
L'Amandier's final villas in phase 1 has just been released. Each feature stunning pools with uninterrupted 360 degree views over the Atlas Mountains and surrounding National Park.
Set in the midst of the most tranquil and serene landscape, there is plenty of space for outdoor entertaining as the sun sets over the peaks of the stunning Atlas Mountains.
Prices:
From £329,000 for a two bedroom villa to £495,000 for a three bedroom villa
For more information, visit lamandierhotel.com