The Blueberry - Superfood of the Berry World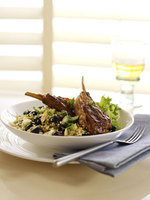 The blueberry, one of the only foods naturally blue in colour and widely considered to be a 'superfood'.
August is the prime time to add some fresh blueberries to your shopping basket. This is the month blueberries are in season, meaning they are tastier, readily available to buy and affordable.
The goodness inside these little berries is mind blowing – not only are they a brilliant source of much needed antioxidants like Vitamin C, but they are full of fibre! A handful of blueberries (around 80g) counts as one of your five a day but contains only 46 calories. They are low in fat, saturates and salt, and are free from added sugar and artificial ingredients.
One of the most popular fruits in the UK is the banana – but a handful of blueberries contains 7.5 times more antioxidants than a small banana. Blueberries haven't always been so popular in the UK; 10 years ago 3m households bought blueberries but in 2015 over 11million households now enjoy blueberries each year.
Blueberries are the perfect snack – simply wash and enjoy them. They are also a great accompaniment in many recipes and can be eaten at any time of the day!
As blueberries are in season, why not incorporate some berry goodness into your day with this recipe:
Griddled Harissa Marinated Halloumi with Blueberry, Spring Onion and
Toasted Almond Couscous
Perfect for a mid-week supper or a special occasion this easy and quick to make supper is both tasty and healthy, the spiciness of the harissa complementing the sweet and juicy blueberries.
Serves: 4
Preparation time: 20 minutes
Cooking time: 30 minutes
You'll need:
2 tbsp harissa paste
4 tbsp natural yoghurt
500g halloumi cut in to 12 slices
200g couscous
250 ml vegetable
1 tbsp olive oil
200g blueberries
4 spring onions, finely sliced
juice of ½ lemon
50g flaked almonds, toasted
28g packet or handful of fresh mint, finely
chopped
Salt and black pepper
What to do:
Mix together the harissa and yoghurt, coat the halloumi and leave to marinate for at least an hour, or overnight if time allows.
Place the couscous into a large pan, add the hot stock and olive oil, stir and cover with cling film, leave for 5 minutes then fluff up with a fork.
Add the blueberries, spring onions, lemon juice and most of the toasted almonds and mint.
Season to taste.
Griddle the marinated halloumi for approximately 1-2 minutes each side until cooked through.
Serve on a bed of the warm couscous with the remaining toasted almonds and mint sprinkled over.
Serve with a green salad.
Cook's tip: The Halloumi can be replaced with either salmon or lamb.