Self-taken snaps key to making a house a home, say Brits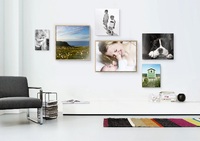 Self-taken photographs are key to making a house a home, according to a study of consumer attitudes by online photo lab WhiteWall. The study, which has been conducted with the support of renowned interior designer Richard Randall, set out to establish how important Brits believe printed photography is to their home environment, at a time when the vast majority of photography is produced in a digital format.
The study revealed that, despite the rise of digital photography, a massive 75% of us still have self-taken printed images on display in our homes and we attach enormous importance to them. Nearly nine out of ten (86%) of those questioned also believed their home wouldn't be as 'homely' without their own images on display.
Marieke Goethe, director of Public Relations at WhiteWall, commented: "This makes perfect sense – our homes should be personal to us and having pictures of people and places we love on display is a great way of doing this. What surprised us is quite how deep this instinct runs. Despite so much photography being taken digitally, 80% of people surveyed still love to print the photos they've taken, with around a third wishing they did so even more."
Designer, Richard Randall, commented: "From a design point of view, what people are printing, and why they are selecting these images, is also really interesting. Very few (7%) say they are influenced by fashions or trends, instead people are choosing pictures they have a personal connection to, bring back happy memories or remind them of a significant personal event. This helps to explain why – regardless of age group or gender – photos of partners and immediate family are the most popular subject matters, followed by images of pets and holidays.
"As a designer there's no better starting point than taking something a client loves and designing a space around it which has real meaning to them. If you're looking for inspiration for your next project, then a flick through last year's photos could be a great place to start."
Richard's top tips for using your photos in your next project:
1. Pick a theme
Having a consistent theme for your images will make your room feel harmonious.
2. Choose the right size
In a small room, a few large pictures can make a room feel larger while lots of small pictures can make a space feel 'busy' and crowded. Think about balancing images with the size of your furniture to ensure pictures aren't overwhelmed.

3. Balance colour
If the photos you wish to display have a reduced colour palette, you could offset them with a contrasting wall colour. However with colourful photos, a more neutral background can make your images the stars of the show. Frames can also help separate and differentiate your pictures from the wall colour.
4. Go monochrome
For a toned down, stylish look consider converting colour images in to black and white prints. Monochrome photos are a great way of injecting a designer feel into any room.
5. Make Connections
Create a real atmosphere by choosing a colour or material found in your image (or its frame) and mirror it in furnishings and accessories throughout the room. If you're keen on incorporating existing furnishings into your new scheme, a carefully chosen frame can be used to harmonise your new picture with other much loved possessions.
6. Consider the light
Depending on what your image is printed on you may need to consider reflections from bright lights or windows, or you may want to further draw attention to your photo with careful accent lighting.
7. What height?
Pictures at eye level will get noticed first, but what constitutes 'eye level' depends on if pictures will mostly be viewed standing up (such as in a kitchen) or sitting down (for example, in the living room).
8. Multiple pictures
The pictures near a middle of a group will usually be noticed first, so be sure to position your best pictures accordingly. To make sure you get the best arrangement, it's worth laying out your pictures on the floor first to get a feel of how they'll work together.
9. Longevity
If you're designing a room around a photo you love, make sure the print is of decent quality or it will fade with time. This is particularly true of prints that will be exposed to direct sunlight.
* Figures derived from research conducted by the Leadership Factor which questioned 1,007 consumers during June 2015.