Demand for ethically sourced clothes increasing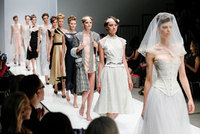 Fashion experts say it's time manufacturers started to think sensibly about how they source materials, as consumers become more sensitive to the provenance of their wardrobe.
Exclusive research by the Digital Hub has revealed nearly half of all shoppers surveyed would chose to exclusively shop at ethical fashion stores if price was not an issue.
Moreover, four in ten women would actually pay a 15% premium on the items they purchase if those items were manufactured from sustainable materials.
Dr Alana James, Assistant Professor of Fashion at Heriot-Watt University, Edinburgh, said: "To take the word sustainable literally, it means to prolong a system for the future. The ecological implication of the current fashion model is not sustainable – it uses vital natural resources such as oil and water.
"There is a lot of literature that will say sustainability is a trend, but it can't be a trend in the same way the fashion industry uses the term. We've sped up production and consumption to such a degree that we now have to assess the impact.
"Fashion businesses need to start considering Corporate Social Responsibility."
British haute couture designer Lucy Tammam, known for her bespoke, eco-friendly designs added: "The problem is intrinsically with the high street – it's about fast fashion, it's very accessible with a very blinkered approach to fashion.
"We need to make consumers understand how our clothes are made – I heard of a big high street brand that had 3,000 tops with the arms stitched the wrong way, but rather than getting them fixed, they just threw them away because that was cheaper.
"Consumers now value the label, but give no value for the production of the garment, that's the wrong way around."
Meanwhile, a significant percentage of respondents said they were still more likely to buy cheap clothes over ethical clothes, which Lucy Tammam attributes to the high street's distancing of consumers from producers: "It's all about knowing my producers and working with them directly and knowing the conditions, I know everything that is it is clear and monitored for me and transparent to my customers.
"We monitor our whole supply chain, most designers will buy material off the shelf because they like it, but they won't know where their cloth was made or who made it.
"I have a personal relationship with every producer I work with and virtually every customer I sell to."
One in ten Brits only shop with fashion brands they describe as ethical. James said: "Unfortunately the price of eco-fashion is generally slightly more expensive.
"Either there hasn't been social compromise in the supply chain or a better quality dye or fibre has been used.
"This could be reduced is if these practices were to become more mainstream and utilized by a larger market segment."
Lucy Tammam argues for a "Crap Tax": "A tax on every consumer product, if the product is unsustainable, or if it's bad quality we should add more tax on to it. When the price is equal consumers won't have to make a choice between good quality products and cheap, bad ones.
"Consumer demand for bad quality stuff needs to stop. There are some food shops that are a little more expensive because it's better quality. People realise it lasts longer and tastes better, the people that chose those more expensive shops are the ones who are likely to drive a change in the fashion industry.
"It's not about the money you spend here and now, it's the long term value."
The research also revealed:
Four in ten Scottish consumers consider a brand's ethics whilst only 29% of East Midlanders care.
Over half of all consumers are still price sensitive.
Four in ten believe that London Fashion Week should represent and advertise ethical fashion overtly.
Half of women said if money was not an issue, they would only shop in ethical stores.
A third of Brits would pay more to ensure that their clothes were ethically sourced.