Health vs. Indulgence: Neon Fuel partners with Plateau for Fierce Heels dancing experience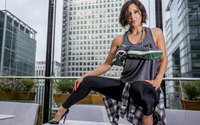 This autumn, Canary Wharf restaurant Plateau will team up with Neon Fuel, a London-based street dance and travel company to hold monthly Fierce Heels dance brunches. The classes will take place on the first Saturday of each month from October to December, starting from 3rd October. Guests, who are encouraged to wear high heels during the class, will learn a choreographed dance routine followed by an unlimited bubbles brunch courtesy of Plateau, offering the ultimate health vs. indulgence experience.
The Fierce Heels dance class has been designed to improve confidence, posture and dance techniques, and participants will be able to do all this whilst enjoying spectacular views of Canary Wharf from Plateau's terrace. Dancers of all ages and skill levels are encouraged to bring the attitude to the first class on 3rd October, which coincides with Neon Fuel's fourth birthday. The classes will be priced at £65 with brunch and unlimited bubbles included.
Plateau's head chef Daniel McGarey has put together a refreshing yet indulgent brunch menu with dishes such as: Parma ham, charentais melon, coffee and maple dressing; Green papaya, pomegranate and cucumber salad with chilli and lime; and Guinea fowl breast, grilled vegetables, thyme jus. For those with a sweet tooth, Plateau offers an array of beautiful cakes, mousses and sorbets including: a Pimm's jelly, with white chocolate mousse and mint sugar; and Vanilla crème brûlée and brandy snap.
Launched by choreographer and dance teacher Thalia Charalambous in 2011, Neon Fuel organises dance events all over the world offering 'Hip Trips for Healthy Hedonists.' The company, which has been to Ibiza, New York, Berlin, Copenhagen, Lisbon and, next month, Istanbul, arranges trips to cities where members can dance and enjoy the nightlife.
All participants are encouraged to wear heels, but trainers will also be accepted.
Dance class dates:
3rd October, 11am-12pm
7th November, 11am-12pm
5th December, 11am-12pm
plateau-restaurant.co.uk
neonfuel.com
To book a class please visit neonfuel.com/events/uk-classes/ or email thal[at]neonfuel.com
About Plateau
Plateau is a D&D London restaurant and offers contemporary French food with beautiful views over Canary Wharf.