Michelin Stars on Wheels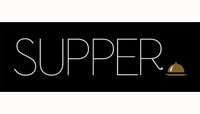 This September will see the arrival of SUPPER, the first ever Michelin starred delivery service, delivering food and wine from London's finest tables with cutting edge packaging and delivery techniques unlike anything ever seen before.
SUPPER's unique service and delivery methods set them apart from all other food delivery services, meaning that fine dining restaurants, whom in the past have shied away from allowing their delicately prepared food to leave their restaurants, are now trusting them to deliver their food to customers' homes and offices.
The first priority is that the restaurants' gourmet dishes arrives in exactly the same state as when they left the kitchen. State of the art Japanese bikes will weave their way through traffic, ensuring faster delivery times than ever before. Each driver will also be smartly attired in SUPPER branded uniforms, and the food will be delivered in stylishly branded SUPPER bags.
A great deal of research and expense has been made to ensure that absolutely no degradation from the time the food is made until it's delivered to their customers' front door will occur. Each of these revolutionary bikes consists of bespoke boxes, which are thermally lined through to the containers where the food is placed. The high tech boxes are kept at a constant temperature, either hot or cold to maintain the quality of the famous dishes. Each vehicle can hold up enough food to cater for up to 20 people, which is ideal for large corporate orders.
The SUPPER concept has already attracted the attention of 19 restaurants throughout London. Their clientele consists of Michelin Starred Indian Restaurants, Tamarind and Benares in Mayfair, with an aim to have five Michelin starred restaurants on their books by autumn.
Other restaurants involved include: worldwide steak specialists, M Restaurants located in the City, innovative Japanese restaurants, Matsuri and Tsunami and Mayfair's Authentic Italian Wood Fired Pizzeria, Bocconcino. Not to forget the three Chinese Restaurants: Barshu, Bashan and Baiwei that have been reviewed by Jay Rayner as " the Heat of Our Moment" and Ed Baines' Soho seafood institution, Randall & Aubin are just some of the other notable restaurants already on board.
To accompany the five-star dining experience, SUPPER will also offer an in-house sommelier services with an excellent curated list of wine, prosecco and champagne available at affordable prices and with pairing recommendations for each dish.
W: supper.london