Rock 'n' Roll Supper Club extravaganza hits Huntsham Court, Devon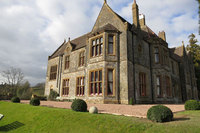 Huntsham Court, the grand private hire baronial mansion in Devon, is delighted to announce its next Hotspot and Supper Club event bringing a touch of 1950's Americana to the Devonshire retreat.
On the 8th October from 7pm until late, the house will open its doors to guests offering the sounds and gourmet treats of the golden era. Headlining the evening, Rock 'n' Roll dynamite - The Beat Cats thebeatcats.com - will inject the swing, raising the roof with a playlist influenced by the greatest names of the time, inspired by Buddy, Elvis, Gene and Chuck fused with the Stray Cats and a dressing of Imelda May.
Providing authentic American deli food, Huntsham Court will be inviting Dan's American Kitchen dansamericankitchen.co.uk to satiate the taste buds of its honourary Teddy Boys and Girls.
Throughout the night a casual menu of traditional deli food, from the Americana street food experts, will be served in the Great Hall, from tex mex, creole to smoked meats accompanied by sides of slaw and fries.
With sounds and savouries sorted, the cocktail menu will put the 'rock' in the 'roll' mixing up a retro fusion of classics from martinis to Tom Collins and a taste of kitsch with Grasshoppers and a Mai Tai or two. As no diner experience would be complete without a shake, Dans' will also ensure that junior guests and rollers with a sweet tooth are re-fuelled with a decadent selection of milkshakes.
Tickets for Huntsham's American Diner are on sale now at £24 per adult and £15 for juniors aged 11-18. Must be booked in advance.
For further information and to book email: supperclub[at]huntshamcourt.co.uk
For more information on Huntsham Court, visit huntshamcourt.co.uk