Berlin's rent cap: 5 reasons why landlords are still onto a winner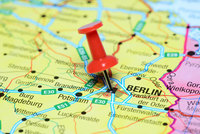 Berlin is the first city in Germany to introduce a cap on what landlords can charge new tenants. The rent-control legislation has come into force in a bid to control some of the fastest rising rents in Europe. As a result, landlords in Berlin are now limited to raise rents by no more than 10 per cent above the local market average; a cap that was already in place for existing tenants but, under the new rules, has been extended to new tenants too.
Between 2013 – 2014 rents in Berlin increased by more than 9% according to Jones Lang LaSalle – making the capital home to some of the fastest-rising rents in Europe.
But whilst the rent controls are bound to bring extra stability for tenants, what does the cap mean for landlords? Here are five reasons why investing in Berlin means landlords are still onto a winner:
1 Tenants stay for longer
Rent controls discourage tenants from moving frequently because they have more certainty that prices will not rise too steeply, too fast. German tenancies are typically long anyway – in fact, they are generally open-ended. For landlords, this means that tenants can stay in their apartments for decades on the same contract – eliminating the cost and hassle of finding new tenants every 2-3 years, as is typical in the UK.
2 Substantial rental increases every 3 years
The cap means that rental increases will be restricted to 20% within three years, unless an event such as modernisation of the property has taken place that warrants an earlier increase. However, as any experienced investor will tell you, a 20% increase every 3 years is still considered a substantial gain.
3 New build properties are excluded from the rent cap
Many investors are switching their focus to new builds in Berlin, which are excluded from the rent cap, such as the brand new buy-to-let opportunity at Stadtpark Steglitz from leading buy-to-let specialists Property Frontiers. The collection of studios, one, two and three bed apartments has been hugely popular amongst those looking for excellent capital growth potential and as new build apartments are excluded from the rent cap, it means landlords can maintain a healthy rental income.
4 Berlin's housing market continues to thrive
Despite the rental cap, investors can still expect their buy-to-let property to get snapped up quickly, due to high demand for accommodation thanks to a growing population and shortage of properties available. According to estimates by Jones Lang LaSalle, at least 20,000 new apartments p.a. will be required over the next few years to return equilibrium to the residential market.
5 Keeps the city affordable
Although rents in Berlin are still low compared to other European cities, the rent cap is vital to keep the city affordable for lower-income residents. The rent cap will ensure that Berlin does not become another priced-out city like London or Paris, both of which are forcing tenants with lower incomes to seek properties outside the city because they simply cannot afford the rent in prime areas. The rent cap will maintain a healthy rental market and should not have a dampening effect on new build properties.
For further details, visit propertyfrontiers.com.