Families Worldwide launches 10th anniversary brochure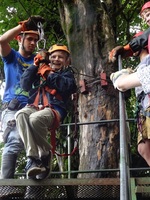 Next year marks the 10th anniversary of the UK's leading family adventure holiday company, Families Worldwide, and this week their new 2016/17 brochure is launched revealing 13 new itineraries, taking the total number of options to over 50 trips in 40 countries around the world.
Comments Mark Wright, Founder of Families Worldwide: "I take pride in being the first to develop the concept of family adventure holidays in the UK, but we never sit on our laurels and we constantly innovate and develop new ideas and places for families of all shapes and sizes.
"Our hard-working team have created our biggest ever brochure for our anniversary year and have come up with new trips from as close to home as Tuscany and Corsica and as far afield as Japan and Myanmar. We have also marked our 'Signature Trips' which are our most popular itineraries and a great guide for families thinking about trying an adventure holiday for the first time."
Here is just a selection of the exciting new trips…
Burma Discovery: 11 days from £1,249 per child, £1,399 per adult
Off the tourist map for many years and now welcoming visitors, Myanmar, or Burma, is a culturally rich country with a fascinating history. There are ancient treasures to discover, golden temples, bustling markets and friendly locals. Highlights include exploring Bagan temples by bike, a sunset cruise on the Ayerwaddy River, learning to cook Burmese food and spending time at the tranquil Inle Lake. There are also special, optional activities designed for teenagers.
Alpine Adventure in Slovenia: 8 days from £949 per child, £999 per adult
Based in the picturesque town of Bled, this trip provides a chance to explore the Alpine region of Slovenia. Highlights include rafting down the Soca River, guided walks around the lakes and mountains, cycling through summer alpine meadows, having a go at rock climbing, sea kayaking around Skocijan caves, zip lining and summer tobogganing.
Adventure Malaysia!: 14 days from £1,049 per child, £1,099 per adult
This two-week trip transports you from historic Malacca, to the soaring skyscrapers of Kuala Lumpur and up into the mountainous dense jungle of the highlands. Highlights include a night walk in the jungle, spotting orang-utans, watching fireflies, a river cruise in Malacca and ending on the colonial island of Penang with its palm-fringed beaches and fishing villages.
Wild West Adventure in the USA: 11 days from £1,899 per child, £1,999 per adult
Many people are unaware of the spectacular scenery in the National Parks in Arizona, Utah and Nevada. Highlights of this memorable trip will include staying in a traditional Hogan house, hiking through the Grand Canyon, swimming in natural pools in Zion NP, camping under the stars and exploring with a local Navajo Guide.
Kruger, Zulus & Coast in South Africa: 12 days from £1,299 per child, £1,399 per adult
A chance to discover one of Africa's most colourful and exciting destinations. Highlights of the action-packed itinerary include game drives to spot the Big Five in the Kruger National Park, seeing the awesome Mpumalanga landscapes, sleeping in a 'beehive hut', visiting a gold mining town, learning about the Zulus and their way of life, and relaxing on the beaches of St Lucia.
Northern Lights Adventure in Finland: 8 days from £899 per child, £1,299 per adult
Enjoy the fresh air and stunning scenery of Finland on this week-long family adventure. Highlights will include spotting the amazing Northern Lights, husky sled rides, feeding the reindeer, discovering about the Sami way of life (Europe's only indigenous race), sleeping in a snow hotel and learning winter survival skills like Bear Grylls!
Flight Inclusive prices are also available. For more information, visit familiesworldwide.co.uk.
Other new trips in the 2016/17 Families Worldwide brochure: Serengeti Family Safari, Teen Hike & Bike (Morocco), Prague & Tatras Adventure, Adventure Albania!, Natural Tuscany, Island Explorer (Corsica) and a tailor-made Highlights of Japan itinerary.