Savvy Brits can save £000's on second homes overseas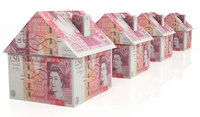 Exchange rates can have a big impact on the global property market. Whether purchasing a property for personal use or as an investment, beneficial exchange rates can lead to buyers getting a lot more for their money.
The value of the euro against the pound is an excellent example. A two bedroom apartment on the Costa Blanca, such as the key-ready properties at Brisas de Alenda Golf, available from leading Spanish homebuilder Taylor Wimpey Espana costs €155,000, which equates to £112,198 (this and all subsequent exchange rates are based on data as of 22/9/15 from xe.com). Just one year ago, the same property would have cost £121,040. Five years ago, the cost would have been £133,683.
The greater the property price, the greater the saving. Over in Portugal, a three bedroom villa with sea views and pool available through boutique real estate agency Ideal Homes Portugal costs €850,000 (£615,281). In September 2014 the same property would have been worth £663,770. In September 2010, it would have cost £733,100, a difference of nearly £120,000 due to the strengthening of the pound.
Martin Dell, Director of Spanish property portal Kyero.com, which covers sales, long-term rentals and holiday lets, comments, "The difference that exchange rate fluctuations can make is truly astonishing. When the pound goes up in value against the euro, many Brits wisely see that as the time to consider their options in terms of second home ownership overseas. A wait of a few days can mean a saving of thousands if not tens of thousands of pounds, although of course if the pound's value dips then the rate can go the other way too!"
Kyero.com is currently listing a super luxurious five bedroom, seven bathroom villa in Marbella. The property includes a home cinema room, bar and poker room, gym, heated indoor pool and plunge pool, sauna, massage room, two outdoor pools, outdoor bar and BBQ area and 12 space underground garage. The coastal views from the infinity pool, gardens and sunbathing deck are also rather special. The home is on the market for €23,000,000 (£16,648,780). Just a year ago a buying paying sterling would have needed £17,960,827 and five years ago when the villa would built they would have had to find £19,836,827, more than £3,000,000 over and above what the property is worth today.
Nor is it just the falling euro that has made British property buyers so happy. The Brazilian real has plummeted over the past year. It means that investors looking to pick up property in Brazil can make a substantial saving. Luxury apartments at Costa Azul, an exclusive Natal development that includes a private bar, swimming pool and gym, along with stunning ocean views, are available through Ritz-G5 for R$411,488 (£66,015). This time in 2014, the same property would have cost £103,384, while in 2010 it would have been £152,688.
The Turkish lira is another currency to have fallen against the pound. Universal21 is a specialist property company with offices in Istanbul, London and Dubai, which sells high end properties for investment or personal use. The company's Oceanic Bay View villas are currently on the market for TRY4,825,274 (£1,038,158). In September 2014 the equivalent property would have cost £1,304,768. In September 2010 it would have been £2,101,654 – more than £1,000,000 more expensive than at today's exchange rate.
The stark figures show the enormous impact that exchange rates can have on international property purchases, highlighting how essential it is for those considering buying a home abroad to study exchange rates and be aware of any known factors likely to impact them. While it's impossible to predict precisely what will happen to a rate over the coming years, some shorter term indications are certainly possible, with the right knowledge and as the figures above show, that knowledge is absolutely worth investing in!