Boho Chef to visit Langley to create fusion dining extravaganzas with Dan Grigg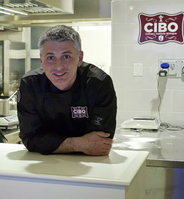 The much-acclaimed and talked about two AA Rosette restaurant at four-star Langley Castle, in Langley-on-Tyne, Northumberland, is set to provide two wow factor culinary extravaganzas on Wednesday November 18 and Thursday November 19, when executive chef Dan Grigg, shares his kitchen with a special guest - the 'Boho Chef' from Bologna, Stefano Corvucci.
This will be the first time Stefano has appeared at an event in Britain, having previously cooked only in Italy, or at events in the USA and Canada. This is a major coup for Langley, which is increasingly becoming known as an outstanding destination dining venue.
Dan and Stefano will be cooking together at 'Josephine's' restaurant, to create a fusion menu combining the best of English and Italian cuisine, with each being inspired by the other, with a few twists thrown in along the way. Both chefs are currently concocting their dishes and the result is likely to be an extraordinary, not-to-be-missed occasion.
This exclusive dining event will be accessible by pre-booked ticket only, with just 28 dining places available on each evening. Each of five courses will be accompanied by wine tasting, whilst brandy tasting will be included towards the end of the meal.
The event will take place in The Pavilion at Josephine's – a contemporary glass extension to the exquisite 14th century luxury castle, known as the 'time capsule castle'. This will be an ideal venue for the 'Drama Cuisine' for which Dan is renowned, coupled with the food theatre and lively raconteur narrative of the 'Boho Chef'.
Following the meal, diners will be able to talk to both chefs and learn some of their secrets, their passions and the principles that underpin their respective culinary philosophies.
Tickets for these events cost £95 per person and are limited in number. To avoid disappointment, call 01434 688888 to book your places swiftly and be part of these marvellous and exclusive culinary occasions.